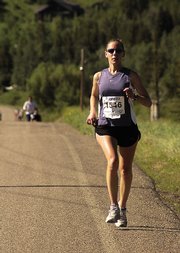 Steamboat Springs — Hot Springs Short Cut Run director John Chapman is putting out a bounty.
With participation in the event declining in recent years, Chapman is holding out a crisp $100 bill for anyone who can set a new course record.
The course is every man or woman for himself or herself, and the goal is to find the quickest and most direct route from Old Town Hot Springs to Strawberry Park Hot Springs. Competitors are encouraged to go off road - or anywhere else, for that matter - to beat their counterparts.
The race is for all ages and is the only Steamboat Springs Running Series event besides the triathlon to feature a bike race.
The race begins Saturday at 8:30 a.m. for walkers, at 9 a.m. for runners and at 9:30 a.m. for bikers.
"It's a bounty of $100 for any of the course records," said Chapman, who thinks he knows the fastest way but is keeping his lips sealed. "I'd love to see a course record, but those are some fast times."
Last year, Jon Huie and Sarah Walker set the running records. Huie ran the approximate seven-mile course in 44 minutes, 13 seconds, and Walker did it in 52:00.
Karen Tremaine holds the female biking record with a time of 33:35, while Brad Bingham blazed the course in 25:04.
Along with the $100 bounty, the 22nd annual race will have more than $1,000 in prizes, including Rudy Project sunglasses for the first male and female bike finishers and a pair of running shoes for the first male and female run finishers. Race entry also includes admission for the day to the Strawberry Park Hot Springs and brunch.
With all the prizes, Chapman still said the bounty is what should make this race interesting.
"There's no hitchhiking or riding in a car, but you can do most anything else," he said. "We thought, 'Let's make this thing fun.'"
Pre-registration is available at Christy Sports until noon today for $20. Race-day registration begins at 7:30 a.m. at the Old Town Hot Springs parking lot for $25.
Entry for racers under 18 costs $1 for each year of their age.