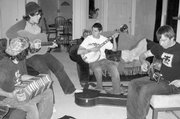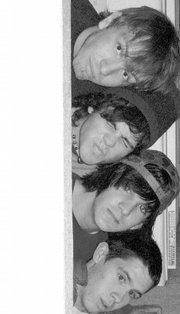 Steamboat Springs — Four former classmates from Kremmling left behind their tubas and violins and donned more traditional instruments for rocking Steamboat's Battle of the Bands in May. Their onstage presence and lyrics provided musical maturity beyond their years, and Stealing Outfield ended up stealing the show.
"We grew up together," guitarist Michael Stone said, attributing the band's success to the members' close friendships. "I've known these guys for seven years."
The band, consisting of Stone, singer and guitarist Patrick Crosby, bassist Mike Villegas and drummer Brandon Guite, met in high school and eventually began playing with each other on a regular basis, outside of band class. As their friendship grew, Stealing Outfield evolved.
"Now that we're in the band together, we just get to argue more," Stone said.
Since its beginning three years ago, Stealing Outfield's sound has matured with the band's abilities. A regular Friday night for the foursome includes playing in Stone's basement, where he developed a makeshift recording studio.
"We play a lot of indie (rock) in the studio when we're just messing around with acoustics," Stone said. "We'd like to bring more of that into our live shows."
In November 2006, the band was invited to play in a Battle of the Bands in Denver, and the group jumped at the chance to play in Steamboat Springs' battle in May. Although it was only its second live performance, Stealing Outfield managed to walk away with first prize, which includes the chance to play a show at Mahogany Ridge later this summer.
Stealing Outfield performs today as part of Kremmling Days, and the band has a couple of gigs lined up for the rest of the summer. Stone said the band would like to book a couple of weddings, and the group hopes to finish a demo tape before fall.
"It's interesting growing up in Kremmling," Stone said. "As a musician, if you come out with anything decent, the whole town gets excited."
In the fall, Stone will attend the University of Colorado in Boulder, and Crosby will return to Fort Collins for his sophomore year at Colorado State University. Villegas plans to continue his tattoo internship in Frisco, and Guite will finish up his senior year of high school in Kremmling.
Although the band won't be able to jam every night, Stealing Outfield is confident its sound will grow and improve in the years to come.
"We just play," Guite said. "We play what we think sounds good, and we hope everyone else likes it."
Judging by the crowd-surfing response to the band's set in May - so far, so good.