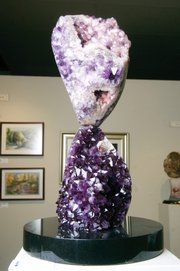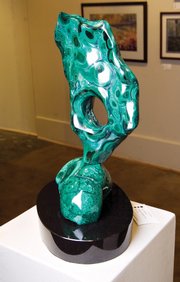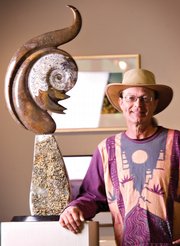 Steamboat Springs — Steamboat artist Leo Atkinson really knows how to work a crowd. During Memorial Day weekend, Atkinson opened geodes to children and created a booth full of rotating mineral sculptures, winning first place in the sculpture division of the Boulder Creek Festival.
"I'm really at these festivals to get my work out there," Atkinson said. "But a prize every now and then is nice, too."
Among the 150 artist booths, Atkinson won in the sculpture division based on the overall appearance of his stand, and his sculpture modeling a rubber duck caught the eye of the judges.
"His work is like nothing I've ever seen," said the festival's art head chairman D Vankrevelen. "It's totally unique - nothing in the festival was even in the same category."
The materials Atkinson uses to create his sculptures are distinct. Like all of the shows Atkinson visits, he was the only artist at the Boulder Creek Festival to use minerals and fossils in his sculptures.
"I don't want to take away from the fossil," Atkinson said. "I try to just create around the natural beauty of the fossils and crystals."
Atkinson's sculptures have two parts: the base, made of granite, and the fossils or crystals. He carves around the rock surrounding the crystal to create the sculpture.
The pieces range in price from $2,500 for smaller pieces to a 4-foot statue Atkinson sold last year for $42,000.
"I put things together visually before I even begin to build a sculpture," Atkinson said of his art. "I try to find the right combination of colors to balance the piece."
Atkinson receives fossils and crystals from vendors around the world. He attributes some of his success to the connections he's made throughout the 25 years he's worked with international traders.
"It's like anything else," Atkinson said. "After such a long time in the business, I've developed loyalties with people who get me better and better supplies."
Atkinson said he plans to expand his business within the next year. In addition to major shows in the United States, Atkinson wants to attend more trade venues internationally, including larger shows in Europe.