Dusting off bluegrass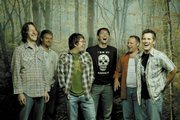 Past Event
Tuesday, June 19, 2007, 7 p.m.
Strings Music Festival, 900 Strings Road, (Corner of Mt. Werner Rd & Pine Grove Rd), Steamboat Springs
Not available / $28
Steamboat Springs — The Infamous Stringdusters pride themselves on not being a typical bluegrass band. The sextet of Nashville boys combine their youthful sound with classical bluegrass, creating a flavor that appeals to a wide audience of listeners.
"We straddle the line between traditional and modern bluegrass," bass player Travis Book said. "We can play classic style, but we also have incredibly diverse musical influences to draw on."
Book is a native Coloradan who lived in Durango before entering the bluegrass scene. He met dobro player Andy Hall, guitarist Chris Eldridge, banjo player Chris Pandolfi, fiddler Jeremy Garrett and mandolin player Jesse Cobb when the five were looking for a bass player.
"I stepped off the elevator with my bass, and after five hours of picking together, we decided to play some music," Book said of his start with the Stringdusters.
While some of the members grew up around bluegrass - Eldridge toured with his father's band, the influential Seldom Scene - Book credits the unique sound of bluegrass that pulled the band together.
"Something really appealing for all of us is the sound of the acoustic instruments and the rhythm they fill," Book said. "Bluegrass has such a distinctive sound."
Based on record charts, the Infamous Stringdusters is leaving its own mark in the bluegrass scene. As of May, the Stringdusters' premiere album, Fork in the Road, was No. 1 on Bluegrass Unlimited's National Bluegrass Survey.
"We're unique because we still maintain a strong sense of bluegrass music," Book said. "But we also like to use instruments to explore a lot of musical territory."
The Infamous Stringdusters will kick off its summer tour in Steamboat Springs on Tuesday as part of Strings in the Mountains' "Different Tempo" concert.
In the winter, the group plans to return to the recording studio in Nashville to work on its follow-up to Fork in the Road.
"We're really excited about playing music," Book said. "We're ready to establish our own little corner of the music world."