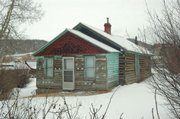 Steamboat Springs — A historic log home slated to become a South Routt visitor center and workspace for business owners needs a push in the right direction.
South Routt Economic Development Council and Historical Society of Oak Creek and Phippsburg officials met Monday to discuss the logistics of moving the Betty Burns log home from its current location behind the Rio Oso Nursery across Main Street to its new home in Oak Creek's Bucket Park.
Karen Tussey, the South Routt Economic Development Council's secretary, said the meeting was attended by a handful of people with some great ideas.
"We're definitely moving in the right direction," she said Tuesday. "Right now we just need to get people who know how to move a building to lend their expertise."
Tussey said the organizations need a licensed contractor to oversee the project, as well as people who have knowledge in the areas of dirt work, crane operation and cement work.
"Our main objective is to get it moved as soon as possible," she said.
The 20-by-30-foot cabin was donated to the historical society in 2004 by California resident Ken Rossi, whose mother, Betty Burns, had lived in the cabin since she was a teenager. The cabin was built in 1920 and has one bedroom, a living room, one bathroom and a kitchen.
Tussey said the cabin likely will house a regional visitor center as well as resources for local business owners to utilize.
"It's going to be a combination building for the entire community," she said. "It's an important thing to preserve and, many years down the road, we're going to be glad we made the right decision."