Utility work begins on $115-million One Steamboat Place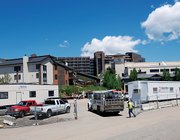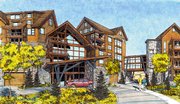 Steamboat Springs — The One Steamboat Place construction site at the base of the ski area has come to life as crews working for Haselden Resort Constructors begin relocating utilities.
One Steamboat Place, being developed by the Timbers Company of Snowmass, would create 80 luxury condominiums and a public plaza serving as an extension of Gondola Square. The plaza would contain the upper terminal of a new people-mover gondola being planned to link with another development, Wildhorse Meadows.
Construction on the One Steamboat Place buildings won't begin until at least the third week in July, when the developers of the $115 million project expect to obtain their final development permit from the city of Steamboat Springs.
Project director Jim Wells said with city approval, crews are doing some preliminary work, including relocating water and sewer lines and stabilizing a steep embankment in preparation for full construction.
Assistant City Planning Director John Eastman confirmed The Timbers has permission to do general improvements to the site that are not "development specific." He added a surety bond has been posted because some of the excavation work comes very close to Mount Werner Circle.
Getting a head start on the work will help move related public improvements at the base of the ski area being undertaken by the city and the Urban Renewal Authority. They include a new pedestrian promenade.
Wells said getting a jump on the utility work also would help One Steamboat Place meet its target of creating a new drop-off area for resort-wide condominium shuttle vans near the Gondola Transit Center in time for ski season.
"Our goal is to get the garage on the west side in place so we can get short-term parking and a facility for the shuttle vans that are used to drop off in the gondola parking lot by winter," Wells said.
Wells said his project's design team has been working on modifications to some rooflines and walls in preparation for a June 28 hearing with the Planning Commission and a subsequent date with City Council on July 17.
Eastman said planning staff has been working with the developers during the past two months.
"They've got it to a point that staff feels overall the proposal is in compliance with the community development code," Eastman said. But Planning Commission and City Council have the final say."
For the balance of the summer, fall and early winter, the construction timetable calls for work on three basement levels, not all of which will be underground. They will contain parking, mechanical rooms, storage and a facility for truck deliveries. That work will bring the project up to the existing grade of Gondola Square.
Much of what passersby will be able to observe in late summer and early fall will be work associated with drilling 260 piers, or caissons, that will form part of the foundation of the buildings. Structural steel could begin rising out of the site by late this year.
Wells said there's a sense of excitement attached to the early beginnings of construction at One Steamboat Place.
"There has been a lot of hard work on the part of both sides - the city's and ours," Wells said. "They are still looking closely at it, which is fine with us. It's going to be a terrific looking building."