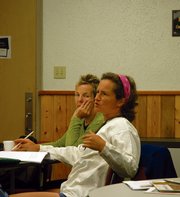 Steamboat Springs — At a monthly Success Steps breakfast seminar Wednesday, local businesspeople learned how to deal with people ranging from "experienced deadbeats" to "bloodthirsty" collection agencies.
Randy Rudasics, director of the Small Business Resource Center at Colorado Mountain College, led the seminar, titled "Commercial Collection Basics." A handful of local businesspeople attended, along with several of the center's small business counselors.
The general message of the seminar was that keeping on top of receivables, cash due to a business for services it has already performed, is critical to a small business's health.
Principally, allowing receivables to age may force businesses to borrow more money, which can significantly erode profit.
"There's a dramatic impact on your balance sheet," Rudasics said. "Needless to say, there's greater stress and more worry if you don't have control of your collections."
Mike Forney, a SCORE counselor and former leader of a mortgage banking company, offered another incentive to stay on top of collections. He said while aging receivables can increase a business's need to borrow, it also makes it harder to do so, as lenders look at receivables as one way to judge how well a business is run.
Forney said the challenge for small businesses is the owner is so wrapped up in providing services that he or she doesn't follow a formal process for collections.
Rudasics recommended developing a simple and firm collections policy and making expectations overwhelmingly clear to customers. He said customers need to be told at least three times what payment expectations are: when filling out a credit application, when a deal is closed and in letters thanking customers for their business.
"I think collections is the ultimate sales job," Rudasics said. "You're trying to get money for nothing at this point. They already got what they want."
A significant amount of the seminar was devoted to the particular challenges of collecting money in a small town, where many businesspeople may have customers who are also friends. In the case of friends who don't pay their bills, Rudasics said there comes a point when a businessperson must ask, "friendship or money?"
"What's more important, your family or the other guy's," Rudasics asked.
The seminar offered advice on other subjects, such as the small claims court process, dealing with collection agencies and how to handle persistently unreliable customers.
"You know what you do with deadbeats," Rudasics asked. "Get them out of your system."
Karen Dierkes, a paralegal with the law firm Klauzer & Tremaine LLC, attended the seminar and said it was very educational. She said collections is a challenge for businesses of all kinds.
"It's always good to get more input," she said.
Janette Manke, of Moun-tain Home Stove & Fireplace LLC, also attended. She said she has let payments slide because she gives people the benefit of the doubt and assumes they eventually will pay. Rudasics said that is typical of a small-town business, but it's not good practice.
"For the most part, we get behind, and we don't have a system," Manke said. "I decided to go just because we have people we're collecting money from, and we wanted to improve our collection process."
The Success Steps seminars are held monthly for existing small business owners in the area. The cost is $10 and includes a continental breakfast.
- To reach Brandon Gee, call 871-4210
or e-mail bgee@steamboatpilot.com.