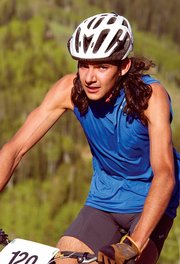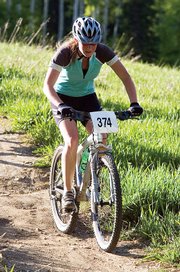 Steamboat Springs — Rosy-cheeked and exhausted after a 4.72-mile climb, Marin Campbell had a confession after the Mount Werner Thunderhead Climb.
"I've never raced that hard in my life," Campbell said after finishing first overall in the women's race with a time of 46 minutes, 21 seconds.
One of the main reasons for Campbell's efforts was the stiff competition.
Kelly Boniface - racing for the first time this year - was nipping at Campbell's heals during the entire race.
"She is awesome," Campbell said of Boniface. "She pushed me the whole way."
Despite the constant push from Boniface, Campbell opened her lead on the final straightaway.
"We pushed each other," said Boniface, who finished nine seconds behind Campbell. "Each time I'd go to pass her I couldn't. I didn't have enough to pass her."
Katie Lindquist finished third overall with a time of 50:10.
With warm weather and pristine conditions after Tuesday's rain, the ascent from the base of the Headwall ski run up to the top of the gondola brought out racers of all ages in 22 divisions.
The Thunderhead Climb is the second race in the eight-race Town Challenge
On the men's side, Essam Welch's lengthy build and climbing skills put him in position to win.
Welch said he took the lead just before the switchback leading up to the Thunderhead ski lift. Although he suffered through some cramps during the last part of the race, Welch had built a big enough lead to hold off second-place finisher Brad Bingham.
Welch finished with a time of 36:17, just seven seconds slower than his time last year.
"Climbing is very rewarding," said Welch, who noted Wednesday's race was his best shot to win a Town Challenge event. "You have a definite goal, and it takes sustained effort to reach it. The summit is your prize."
Bingham, a Steamboat resident, said he was pleased with his run, guessing his 37:09 time was his best effort ever on the course.
"I paced all the way," Bingham said. "I took off and chased down Essam, but I couldn't catch him."
Local cyclist Barkley Robinson finished third in 37:36.
The next Town Challenge race is the June 27 Howelsen Hill X-C. Visit www.townchallenge.com for more details.