Past Event
Thursday, June 14, 2007, 7 p.m.
Oak Creek Town Hall, 129 Nancy Crawford Boulevard, Oak Creek, CO
All ages / Free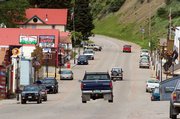 Steamboat Springs — Oak Creek resident Andy Benjamin is confident the town's historic "fierce independence" will keep it alive, though he's concerned about how the town is addressing several issues, including a struggling general fund.
"In my humble opinion, Oak Creek is at a unique crossroads," he said. "It's going to take something revolutionary or some thinking outside the box to manage what we're facing."
Oak Creek officials are facing a general fund that is severely underfunded, a 10-year-old comprehensive plan that needs to be updated and a police force with one member whose last day is today.
Oak Creek Mayor J. Elliott, who in recent months has public-ly supported a mill levy increase to support the town, is hoping residents will attend tonight's Town Board meeting to ask questions of the town's Denver-based auditor, Tim Mayberry.
"This is the time that we all can ask (Mayberry) the questions on our minds," he said. "He's our expert, he's the one to give us a well-qualified second opinion because he's been the one poring over our books for years."
Elliott suggested the town look at putting a mill levy proposal before the voters in November to support the general fund. The general fund is currently supported through sales and property taxes and by the town's enterprise funds - water, trash, sewer and electric.
"What I'm looking at is finding out where we are financially because we can't keep taking from the enterprise funds," he said. "We need to figure out what direction we're going in."
However, not all board members are convinced that a mill levy is the way to go.
Board member Chuck Wise-cup said during a June 7 work session that not only has the town always survived by transferring enterprise funds to the general fund, but that the town would have to implement a hefty mill levy.
"I don't see it happening," he said. "You're not going to get a mill levy large enough to pay for the general fund."
Elliott said he is hopeful Mayberry can shed light on how many mills the town would need to offset the general fund during his presentation of the town's 2006 audit.
"I was hired to do a job the best I can do, and I think the mill levy is what needs to be done," Elliott said.
Despite receiving support from six people, Elliott is not sure how the town will respond to a proposed mill levy increase.
Benjamin agreed a mill levy could be the answer, but that it would be a hard sell to Oak Creek's "hard-working citizens."
"Until Oak Creek gets its act together, a mill levy is the only option the town has," he said. "(The town) can't keep robbing the (enterprise) funds to shore up the general fund."
Oak Creek Mayor Pro-Tem Angie KenCairn said she recognizes the town is "stretched" when it comes to tackling the biggest pieces of pie on its plate.
With the resignation of the town's only police officer, Chief Linda Koile, KenCairn is adamant about reminding residents the town will continue to work through its budgetary constraints while providing law enforcement.
"There are rumors out there, and I think it's important people know that we're committed to figuring out the town's law enforcement needs," she said. "There is not going to be a total lapse in law enforcement here - we'll get it covered."
In other business, the Town Board is scheduled to:
- Hear a re-plat request from Andrew and Emily Schmidt.
- Hear from Brian Benner of Earl McFarland Insurance regarding the town's liability insurance.
- Hear from Susan Colfer of Pet Kare Clinic regarding bringing pet clinic services to Oak Creek.
- Approve its May 24 minutes and special meeting minutes from June 7.
- Approve its May accounts payable.
- Receive an application from Gerry Greenwood for an open Oak Creek Planning Commis-sion vacancy.
- Hear from Routt County Undersheriff David Bustos.
- Appoint a Town Board member to the Routt County Communications Board.
- Adopt a resolution denying the Darling Annexation conceptual plan.
- Adopt an ordinance to establish a wastewater enterprise.
- Hear reports or items of concern from Town Board members.
- To reach Alexis DeLaCruz, call 871-4234 or e-mail adelacruz@steamboatpilo.com