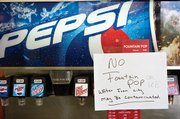 Hayden — Town officials have discovered the source of a water valve malfunction that led to a drinking water warning two weeks ago. They also have discerned what caused an alarm system failure that delayed discovery of the problem.
Public Works Director Frank Fox said a small piece of dirt was lodged in the ball joint of a valve at Hayden's Golden Meadows pump station May 30, causing the valve to stay open and empty a water tower on Hospital Hill to dangerously low levels.
The stuck-open valve triggered an alarm at the water plant, but the alarm did not repeat itself, which suggested to plant employees the problem had corrected itself. The problem was not discovered until the next day. When working properly, the alarm should sound every 15 minutes until a problem is corrected.
Fox discovered that some time in the midst of two recent water projects - an intake reconstruction and an upgrading of the system at Yampa Valley Regional Airport - someone, perhaps an outside contractor, turned off the alarm's repeating mechanism.
"It wasn't a malfunction, which is good to know," Hayden Town Manager Russ Martin said.
Nonetheless, Martin said the town still is considering expanding the alarm system to provide more specific information on problems that arise.
As for the dirt in the valve, Martin compared it to an automatic garage door that won't close if it senses something in its way. Once the problem was discovered, the valve was closed manually.
"That's just the way it is," Martin said. "The chances of that valve not working are usually slim and none."