Converging ideas
Event celebrates local diversity, discusses integration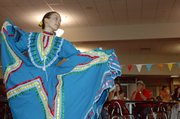 Steamboat Springs — Joseph Wismann-Horther didn't have to go far to find a theme for Wednesday night's celebration of local diversity at Steamboat Springs High School.
All he had to do was check the school's front door.
Wismann-Horther, project director for Denver's Spring Institute for Intercultural Learning, told a crowd of nearly 70 that the motto for the high school's class of 1999, posted on the door, fit the evening perfectly. The motto is "promote diversity and practice respect."
"I think it's important for all of us to think about that," Wismann-Horther said. "Tonight's conversation is all about integration."
The sociable crowd gathered to eat, talk, see folkloric Mexican and African dance performances and, most importantly, to share ideas for how to spend $300,000 in new grant funding from the Colorado Trust's Supporting Immigrant and Refugee Families Initiative. The grant will bring a total of $75,000 annually to integration-oriented community groups in Routt and Moffat counties for each of the next four years.
Maria Martin of Craig is a Peru native who came to Routt County in 2003 on a student exchange, then stayed to marry her husband. She is a member of the Community United Steering Committee, a multi-faceted group including public officials, community activists and business representatives. The committee will decide how to allocate the grant funding, with a goal of enhancing the integration of new cultures and people into local communities.
"We want to hear what everybody has to say," Martin said Wednesday, looking at eclectic groups of people conversing and writing down ideas at tables. "Maybe what we think is important is not what everybody thinks is important."
While Martin provided Spanish translation for Wismann-Horther, speakers of Ukrainian, Polynesian and Fulani - a West African language - also attended the event.
And everyone had plenty of ideas for activities they would like to see.
Spanish-language movies shown locally. Soccer parties. Spanish-language religious events. More English classes. Assistance with buying a car or house. Dances. Mentoring and cultural sensitivity programs. But by far, the most suggestions were for events that would bring people together.
"There is often a lacking relationship between longtime residents and newcomers to Colorado communities," said Wismann-Horther, whose Spring Institute is working through the Colorado Trust to bring similar funding and activities to at least eight other Colorado regions. "Maybe they see each other on the street, but they don't have a chance to sit down and have a conversation."
Flarida Diaz said she has felt welcomed since coming to Routt County several years ago.
"There are very good people here in Steamboat," she said. Beside Diaz, Sofia Grijalva of Steamboat and Judith Bralles of Hayden ate potluck meals and bounced babies on their laps. Grijalva moved to Steamboat a year ago, after living in Craig since 1995. She said more events such as Wednesday's are needed locally.
Summer Laws, executive director of the Steamboat-based Communidad Integrada, said the grant funding will allow for an expansion of integrated activities, and not just internal events.
"We're also getting to meet our mission by collaborating with other organizations," Laws said. "We're going to see what ideas come up."
An event similar to Wed-
nesday's celebration will be held June 18 at the Boys & Girls Club in Craig.