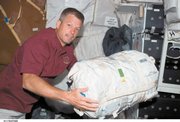 Steamboat Springs High School graduate Steve Swanson began walking in space at about 12:30 p.m. today.
View NASA's live video feed.
Swanson is conducting the spacewalk with astronaut Pat Forrester, who has done three previous spacewalks in his career.
Mission Specialist Jim Reilly will coordinate the 6.5 hour spacewalk and Pilot Lee Archambault will operate the station's robotic arm. Two more spacewalks are scheduled for STS-117.
Swanson's STS-177 crew blasted off Friday and is delivering a starboard truss segment and its associated energy systems to the International Space Station, which orbits 300 miles above the Earth. Swanson - a 1979 graduate of Steamboat Springs High School will assemble new parts on the space station and operate shuttle and station arms for assembly.
Swanson has waited more than a year to get into space. The mission's original launch date was April 2006.
The first delay was because of NASA budget cuts and then to evaluate complications that arose during the Columbia mission in July 2006. Swanson's hopes were dashed again in February, when a hailstorm damaged Atlantis' fuel tank insulation as the craft sat on the launch pad.
Swanson joined NASA in 1987 after receiving his master's degree in applied science in computer systems from Florida Atlantic University. He later earned a doctorate in computer science from Texas A&M University.
Swanson's first job with NASA was as a systems engineer in the Aircraft Operations Division of the Johnson Space Center. During that time, Swanson worked on the Shuttle Training Aircraft, which simulates the flight characteristics of the Space Shuttle from 35,000 feet of altitude to landing. In 1989, Swanson became a flight simulation engineer on the Shuttle Training Aircraft. His work included improving the Shuttle Training Aircraft's navigation and control systems and incorporating a real-time wind determination algorithm.
Swanson was accepted into NASA's astronaut program in 1998. After 1 1/2 years of astronaut training, Swanson was assigned to the Astronaut Office Space Station Operations Branch. He also worked in the Astronaut Office Robotics Branch.