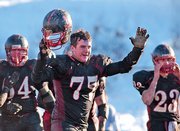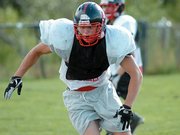 For the past three years, Lane Shipley and Westin Cofer helped lead the Steamboat Springs High School football team to two playoff berths and a league championship.
On Saturday at the Univ-ersity of Northern Colorado in Greeley, the two suited up on the same side of the scrimmage line for one last time.
Playing in the All-State game - featuring a mixture of players from all classifications and from across the state - Shipley and Cofer helped the South come from behind to beat the North, 33-25.
"It was different," Shipley said. "We weren't in football shape, but it was good getting back into it."
If Shipley - who starts fall camp with Dartmouth in August - wasn't in football shape when he got to Greeley, he certainly was when he left.
Shipley was among a handful of players who played both ways during the game. By his account, Shipley played every offensive play and sat out "only a few on defense."
"It was great," said Shipley, who helped the South outscore the North, 26-7, in the second half with his play on the offensive line. "But it was a long week."
For Cofer, who is gearing up to play at Mesa State College, the week provided him ample opportunity to do what he loves best - play football.
Along with Saturday's game, All-State participants are thrown into a week of two-a-days to learn plays and bond with teammates.
Cofer said getting back into a football mentality took him only one day.
"You work through that first day, then we were back to what we do," said Cofer, who started at strongside linebacker and finished with 10 tackles. "I was right back into football mode."
Saturday's competition gave the two a brief glimpse of what the competition will be like at the collegiate level. Of the players at the game, 85 percent are going on to play college football. Cofer and Shipley said they came away from the game confident in their abilities to play at the next level.
"I would say we're more confident," Shipley said. "I mean, Wes and I both made first-team defense."
Both now plan to return to Steamboat and continue working out before football camps at their respective colleges in August.
While both cherished the game - and one last opportunity to play together - both are looking forward to moving into new programs.
"I am extremely excited to show the coaches what I can do," Cofer said. "My bread and butter is impressing coaches and showing them I can play."