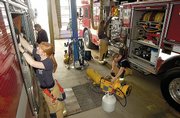 Steamboat Springs — Future fire and ambulance service in the Steamboat Springs area could be provided by a new taxing entity.
The city of Steamboat Springs and Steamboat Springs Rural Fire Protection District officials started discussions about the idea Tuesday night.
The City Council and Rural Fire Protection District officials expressed concern that the agencies' current intergovernmental agreement, adopted in 2001, is not adequately meeting the needs of some residents and does not address how to handle future growth.
The agreement states the city, through Steamboat Springs Fire Rescue, provides fire services to the district, which is about 470 square miles. The Steamboat Springs Rural Fire Protection District in turn provides ambulance service. The city funds about 70 percent of the agreement through sales taxes, while the district funds about 30 percent of the agreement through ambulance user fees and a property tax.
Steve Hilley, president of the rural fire protection board, presented a 2000 report conducted by Oregon-based Emergency Services Consulting Group that outlined several recommendations for the city and the district to follow to better use funds and provide more equitable services to residents living inside and outside city limits.
The consultant group was hired to assess the mutual agreement to "develop options for the future delivery of services and to facilitate decision making by the respective governing bodies."
The No. 1 recommendation was to create a new district to cover fire and ambulance services throughout the area.
Bob Kuusinen, a rural fire protection district board member, said he has been an advocate of forming a special district that would manage both services for years.
"I think it was a good idea then, and I think it's a good idea now," he said. "Essentially both entities would give up their resources to a single-funded district that would manage them both."
If a new district was formed, a set of elected or appointed directors would be responsible for ensuring that the needs of the district reflected the distribution of residents and property owners throughout the community.
City Council member Ken Brenner agreed, suggesting an oversight committee consisting of council President Pro-Tem Steve Ivancie, City Manager Alan Lanning and two rural fire protection district board members discuss the possibility of forming such a district.
"We need to be diligent about this, and not just walk out of here saying it was a good discussion," he said.
The oversight committee is scheduled to meet in July. A series of community surveys, to be funded by both agencies, was suggested.
"I think we want to be as accurate and precise in our audiences' feelings as possible as we move forward," Lanning said. "It's important to first figure out what the district's boundaries would be."
The agencies also discussed where future fire stations should be located to best address growth and how to best purchase new fire and ambulance equipment.
"Sounds like we have an agenda," Hilley said.
-To reach Alexis DeLaCruz, call 871-4234
or e-mail adelacruz@steamboatpilot.com