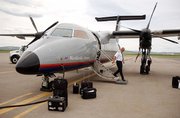 Steamboat Springs — The summer air program at Yampa Valley Regional Airport started Friday, with daily Delta flights to Salt Lake City added to United Express service to Denver.
The service will run until fall, when Delta scales back to one flight between Salt Lake and Hayden each day. The extensive winter air program begins December 15.
"Basically we're ending up with almost year-round service with Salt Lake with the exception of the April and May timeframe," said Dave Ruppel, the airport's manager.
The twice-daily Delta flights with Salt Lake City are replacing a once-daily Continental flight with Houston that served YVRA the past two summers.
Sandy Evans Hall, executive vice president of the Steamboat Springs Chamber Resort Association, said Houston was a very strong market and will be missed.
"We would have liked to have had that consistency, having spent the past two years marketing that flight," Hall said.
However, Hall said having two flights rather than one is "huge" and that the Salt Lake City flights will open up more connections than the Houston flight.
Ruppel said negotiating with the airlines for summer service is challenging.
"It's pretty easy to get out of here in the winter time," Ruppel said. "The summer isn't as easy a slam dunk sale for the airlines, as you can imagine."
The Local Marketing District, which guarantees Delta will break even or generate a negotiated amount of revenue, pays for the summer air program.
The first daily flight departs Salt Lake City at 11:10 a.m. and arrives at YVRA at 12:15 p.m. The jet then departs YVRA at 12:40 p.m. and arrives at Salt Lake City at 1:45 p.m.
The evening flight departs Salt Lake City at 9:05 p.m. and arrives at YVRA at 10:10 p.m. The jet departs YVRA at 7:55 a.m. the next day, landing in Salt Lake City by 9 a.m.
Ruppel said the flights have increased the number of passengers coming through the airport, but not significantly.
"This time of year, we're pretty calm," Ruppel said.
Replacement sought
Ruppel said the airport is in the process of hiring a replacement for Ann Copeland, who retired last month as terminal and operations manager after 21 years working at the airport. In her last few years at the airport, Copeland was a customer service liaison who helped guide the airport through a $16 million dollar expansion.
The description for the job is being rewritten, Ruppel said, and an advertisement for the position should be out in the next week or so. Ruppel hopes to fill the position by August.
Ruppel said he is looking for someone with knowledge of airline and airport operations and a high level of management experience. Ruppel said the position is being altered because there is less need for a customer service liaison.
"Now that we're through construction time, things are running much more smoothly," he said.
Ruppel described the job as more of an assistant manager position, with elevated status and responsibilities, and imagined the position as a stepping stone job between someone in terminal operations and an airport manager.