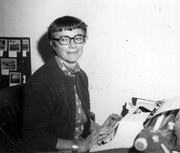 Steamboat Springs — Helen "Dee" Richards, the longtime editor of the Steamboat Pilot, died Sunday at the Doak Walker Care Center in Steamboat Springs. She was 86.
Richards joined the weekly Pilot newspaper in 1965 and remained at her roll-top desk until 1990, presiding over the momentous change from manual typewriters to personal computers in the newsroom.
Richards was a native of Portland, Ore., and a graduate of Oberlin College, where she earned a degree in history.
She had no background in journalism when she accepted the offer of an editorial position from former editor and publisher Chuck Leckenby. However, she had a strong grasp of First Amendment principles and never backed down from an intimidating news source or public figure.
Former Steamboat Pilot reporter Christine McKelvie said she admired Richards for her drive to continue her journalism education through professional organizations. She added that it's significant to understand that Steamboat Springs was more isolated from the rest of the world in the 1960s and early 1970s than it is today. Yampa Valley residents were lucky if they could receive the three television network affiliates in Denver.
"Dee and the newspaper were synonymous, and the Pilot was the nerve center of town," McKelvie said. "There was no cable TV, no Internet and no daily newspaper. That made Dee's profile even higher in the community."
Suzanne Schlicht, who oversees the Steamboat Pilot & Today as general manager of WorldWest Limited Liability Co., recalled the day when Leckenby and Richards interviewed her for the role of advertising manager at the newspaper.
"What really impressed me about Dee was that she didn't hand me the job," Schlicht said. "It was an interview that was full of tough questions about what I wanted to do with the newspaper. I remember thinking, 'What a great person to come work with.'"
Richards led the newspaper to many awards, Schlicht added.
"The newspaper was clearly recognized statewide as a leader," Schlicht said. "We were winners. She is an important part of the history of the newspaper and of the community."
Leckenby, whose family owned the paper from frontier days to modern times, acknowledged he and Richards didn't always see eye to eye. But he added that was a good thing in some ways. As publisher, he hired her first as a reporter and then promoted her to editor.
"It was kind of a great combination. She had her circle of influence, and I had my circle of influence," Leckenby said. "It all sort of balanced out. She was so dedicated and hard working and involved, you couldn't help but love her - even as snarky as she was."
Before her tenure was through, Richards had gained the respect of not only newspaper editors and publishers in Colorado, but around the globe. During the early 1980s, she joined the International Society of Newspaper Editors and traveled extensively to meet with editors and government officials in China, Jordan, Central America, Poland, East Germany and the former Yugoslavia. Meeting a Chinese newspaper editor who had survived being exiled because of his unpopular views made an enormous impression on her.
Relatively late in life, after her 70th birthday, Richards joined the Peace Corps in Sri Lanka.
Best known locally for her role with the newspaper, Richards also was employed by the Steamboat Springs Winter Sports Club, the Steamboat Springs Chamber Resort Association, the Routt County Regional Planning Department and the Steamboat Ski and Resort Corp.
She was an avid hiker and Nordic skier and a member of an informal group of friends who called themselves the Tawdry Tourers. Throughout the winter, without fail, they headed for the hills on Sunday, usually the West Summit of Rabbit Ears Pass, to go skiing. In summers, the same group often would take several days to travel to Northern New Mexico for the Santa Fe Opera.
They were known to hike to the summit of Mount Zirkel and return in a day hike.
One of her three sons, Hugh Richards, said his mother took him and his siblings on childhood hikes to Gilpin Lake in the Mount Zirkel Wilderness, and across the Devil's Causeway in the Flat Tops Wilderness.
Richards authored a history of Steamboat Springs' first 100 years, "Steamboat 'Round the Bend." A thorough treatment of early European settlement in the Yampa Valley, it is contained in the collection of Bud Werner Memorial Library.
Richards' five adult children are tentatively planning a memorial service in late summer.
Hugh Richards said he visited Steamboat Springs from Alaska several times in the last year and on each occasion would read to his mother from the many cards his mother had received. The cards expressing well wishes came from all over the country and from people both within and outside the newspaper industry.
"There were times, reading them," he said, "when I could barely keep from crying."
- To reach Tom Ross, call 871-4205
or e-mail tross@steamboatpilot.com