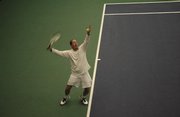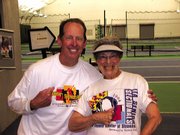 Steamboat Springs — All in all, they don't get much better than this.
With unmatched weather and 138 of the best players in the Intermountain Senior Sectional Championships, Tennis Center Director Jim Swiggart could only come away from the three-day tournament with a big smile.
"It was one of our most successful tournaments," Swiggart said. "There are three things that make a tournament great. The people who sign up, the weather and the facility. The weather was Steamboat beautiful. The people were wonderful and the facility was fabulous."
Although Swiggart was ecstatic about the way the tournament went, he didn't fair as well on the court.
Playing in the 55 doubles championships with partner Gale Howard from Boulder, Swiggart lost to Theo Mandel and Marlin Godown, 6-4, 6-3.
Unfortunately, Steamboat's other two doubles teams in championships suffered the same fate as Swiggart.
Patrice and David Lorenzen lost to Lauren Annino and Mark Freeman, 6-3, 6-4, in the 45 mixed doubles and Paul Hughes and Kathi Skytta lost to Laura and Art Thomson, 6-1, 6-4, in the mixed 60 doubles.
The championships were the second set of sectionals held this year at the Tennis Center.
Earlier in the summer, Steamboat hosted a junior sectionals.
With the success of the first two events, Swiggart said he's excited for the rest of the tournament season.
"It's a tremendous way to kick off the summer," Swiggart said. "I'll have to get my staff keyed up for big events the rest of the summer."
The Tennis Center hosts the Steamboat Tennis Association Mixed Doubles Social on July 14, then the STA Summer Tennis Championships the second week of August.
Then a week after the STA Championship's, the Tennis Center will bring in some of the best players in the nation for the Steamboat NTRP.
Summer camps also begin Monday with tennis pro Don Toy. High School coach John Aragon also starts work with the Junior Tennis Academy on Monday.
For more information about tournaments or camps, visit the Tennis Center or call 879-8400.