State Bridge Lodge fire ruled arson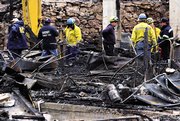 Bond, Colorado — A fire that destroyed a 117-year-old building at the State Bridge Lodge was deliberately set, possibly to cover up a burglary, investigators said.
A trained arson dog detected the presence of a chemical accelerant used to make a fire burn faster, the Eagle County Sheriff's Department said Monday. The Colorado Bureau of Investigation hasn't confirmed the presence of an accelerant, sheriff's spokeswoman Sara Cross said.
No one was injured in the June 2 fire, but the only occupant, caretaker John Ryder, lost most of his belongings, investigators said.
Sheriff's Detective Brandon Beaudette told the Vail Daily in Monday's editions that investigators had evidence of "obvious and intentional criminal activity before the fire." He declined to disclose the evidence.
"It could very well be a cover-up," Beaudette said. "Like someone was trying to destroy evidence of their criminal act - but that is speculation," Beaudette said.
The building that burned housed a bar, office, bedroom, store and a stage, where concerts were held.
State Bridge Lodge, 20 miles northwest of Vail and 90 miles west of Denver, houses visitors in cabins and yurts and hosts parties and other events. The lodge's Web site said it plans to reopen June 29.
Ryder said his dog, Tatiana, had awakened him at about 4:30 a.m., when he discovered the fire. Ryder said he and the dog both escaped but he had to leave his belongings.
Cross said the sheriff's office and Crime Stoppers have offered a reward of up to $5,000 for information that results in an arrest or indictment.