Renewable energy society celebrates strides, re-evaluates goals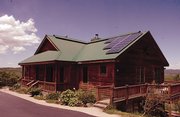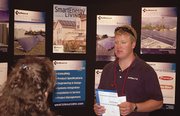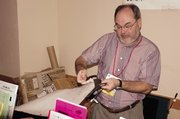 Steamboat Springs — For a subject that is so often combined with the evermore depressing assessments of pollution and global warming, a renewable energy conference in Steamboat Springs this weekend was marked by a celebratory mood.
Participants in the Colorado Renewable Energy Conference at the Steamboat Grand Resort Hotel were feeling more encouraged than ever after a landmark legislative year that saw 11 pieces of energy legislation and 21 environmental laws passed at the state level.
"We are deliriously happy," said Philip M. von Hake, director of communications for the Colorado Renewable Energy Society, which sponsors the conference. "It's almost like we need to redo our goals. This past year's legislative session will definitely go down as the best in history in terms of renewable energy."
This year's conference, in its 12th year, visited Steamboat for the first time and drew 175 registered participants. The conference featured renewable energy exhibitions, workshops and speeches throughout three days. And on Sunday, there was a tour of three solar homes built or under construction in the Steamboat area.
One stop on the tour was a home being built by Leslie Hunt and her husband Bob Congdon in the 1400 block of Manitou Avenue.
"We decided to build it with the prices going up and basically just thinking about the world with global warming," Hunt said. "We wanted to be more energy efficient using solar. We wanted to build something more energy efficient for ourselves and to get other people to do it - to set an example."
Sheila Townsend, executive director of the Colorado Renewable Energy Society, said the conference was for anybody interested in renewable energy, a group of people she said "is becoming much larger." In addition to letting people know what has happened in the legislature, Townsend said the conference also hopes to show people what they can do in their own lives and homes to become more energy efficient. The conference set its own example.
"We made sure, since this was a renewable energy conference, that it was completely powered by renewable energy," von Hake said.
Estimating how much energy use the conference would be responsible for, the Colorado Renewable Energy Society obtained 27,570 kilowatt-hours of wind power, in the form of renewable energy credits, from Boulder-based Renewable Choice Energy. By doing so, the society said it prevented 38,000 pounds of carbon dioxide pollution, the equivalent of planting 507 fully mature trees or not driving a typical car 41,897 miles.
Matt Baker, a Denver lobbyist and executive director of Environment Colorado, said the state has made great strides in the past few years, making more renewable energy progress than in the past 30.
"Two to three years ago we were way, way, way behind the eight ball in renewable energy," Baker said. "Colorado is probably now one of the renewable energy leaders."
Baker also is encouraged with renewable energy's growing popularity at a grassroots level. "Renewable energy is now mom and apple pie. My guess is the renewable energy industry will be Colorado's biggest industry in 10 years, competing with tourism."
With all the progress made recently, the president of the Colorado Renewable Energy Society's board, Doug Seiter, said the society will be devoting more resources to education and implementation, rather than political lobbying.
"Our mission is a shifting one," Seiter said. "We spent a fair amount of our first few years just trying to get laws passed."
For all the good news celebrated at this year's conference, there also was a healthy reality check. Participants were shocked and troubled to learn from one speaker that ice sheets in Greenland are melting at a rate of five feet per hour, giving new meaning to the expression "a glacial pace."
Von Hake said he hopes visitors to the conference left knowing that global warming is at least a big a problem as they think it is and that renewable energy and energy efficiency are key to solving the problem.
"We're ridiculously happy with the legislative session but reminded that we need to do more," von Hake said.
Next year's Colorado Renewable Energy Conference is scheduled for June 6 to 8 in Pueblo. For more information, visit www.cres-energy.org.
- To reach Brandon Gee, call 871-4210
or e-mail bgee@steamboatpilot.com.