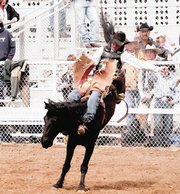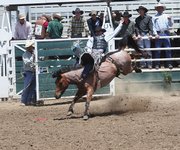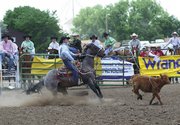 Steamboat Springs — Joel Schlegel had a tough choice most seniors don't think twice about.
Should he attend his high school graduation?
The Soroco senior had to decide between walking with his 38 classmates at the May 26 ceremony in Oak Creek or riding at a rodeo in Monte Vista.
The three-day rodeo, sanctioned under the Colorado State High School Rodeo Association, was one of Schlegel's final chances to compete at and gather much-needed points during the 13-event combined fall and spring season, which concludes with the state finals, June 21 to 24 in Golden.
For Schlegel, the choice came down to one factor:
"Rodeoing is what I want to do," he said. "It was hard not going to graduation, but I want to make (state) finals."
Schlegel had "one of (his) better weekends," and made his bareback rides count. On a graduation day where he was awarded eight scholarships, Schlegel took first place in bareback riding and landed on the podium the next two days. He followed up the rides with equally impressive results June 2 and 3 in Rocky Ford, at the final rodeo before state, with two first-place bareback finishes.
After breaking an arm during his freshman season, Schlegel started riding broncs again this fall and "got determined to work," in the spring. The strong finish helped Schlegel close the gap with the state's No. 1-ranked bareback rider, Bradley Dennison, from the Ute Mountain High School Rodeo Club (Cortez). Schlegel's 96 cumulative season points, just two shy of Dennison's 98, put him at No. 2 in the state standings.
"It's close enough now that whoever rides the best at state will win," Schlegel's mother and Northwestern Colorado High School Rodeo Club organizer, Sherri, said of the close competition. Because Joel Schlegel also has found success in calf- and team-roping, as well as bull riding, he currently is ranked No. 7 in the all-around (of 97 boys), but his primary focus still is bareback.
A top-four win also means a qualifying berth for the national finals, July 22 to 28 in Springfield, Ill.
If Schlegel needs a model for success, he needs to look no further than his older brother Jerad - the 2000 Little Britches Junior All-Around World Finals champion. Jerad looks to defend his 2006 College National Finals Rodeo bareback championship at this year's CNFR bareback event, which begins today in Casper, Wyo.
Joel plans to follow his brother's lead next fall as well - leaving the family ranch in Burns to attend Vernon College (Vernon, Texas) and continue competing at the collegiate level.
For now, the wiry 130-pounder who took third at the Class 2A State Wrestling Tournament in February and who has spent the summer thus far mending fence at a ranch near Sweetwater will soak in what he can from his brother, keeping his focus on his big rides ahead.