Rio 24 Hours of Steamboat bike race kicks off at Mt. Werner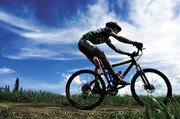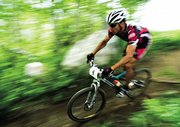 Steamboat Springs — Having done 24-hour races before - but never the Rio 24 Hours of Steamboat - Boulder's Mike Hogan knew the singletrack trail up Mount Werner would be about pain and reward.
"That course has some hellacious climbing," said Hogan, who is competing in the four-man division with Team Chipotle. "I just had to tell myself there's a huge reward ahead of me in the descent. That part was really cool."
Despite being new to the course, Hogan still was able to register the fastest first lap of the day in 59 minutes, 29 seconds.
"I was going for a fast lap," Hogan said. "But I drew the short stick. I didn't want to go first, but no one on the team wanted to go first."
With a new course, Hogan said the key was to keep sharp mentally.
In between laps, Hogan planned on eating food, staying hydrated and getting plenty of rest.
"You look for a massage," he said. "You eat well, you drink and you just get ready to do another lap."
The endurance mountain biking race is entering its fourth year, going from a Le Mans start at noon Saturday to a finish at noon Sunday. This year's event featured 221 riders competing in 12 divisions - solo, duo, four-man, five-man and corporate teams (6-10 members) spread across genders and skill levels - to compete in a race to notch as many 11-mile laps as possible in either 12 or 24 hours.
Each lap has an elevation gain of more than 2,000 feet on the singletrack trails that wind up Mount Werner.
While the course was new to Hogan, who said his team's goal was to notch laps at about an hour, the field was sprinkled with locals.
Steamboat resident Craig Rench, who won last year's duo with Clark Stewart, was looking to repeat on last year's performance with new partner Jeff Minotto.
After finishing 16 laps last year, Rench - who had the second-fastest first lap of the day - said he's confident he and Minotto can get in 17 or 18 laps.
"It's just beautiful," Rench said, noting the recent precipitation left the course in perfect condition. "You prepare by riding as much as possible, but in the end, you have to tell yourself you're ready."
Although Rench was confident after lap No. 1, he said the real race begins when the sun goes down.
Along with maneuvering the course amongst the other riders with only a small light, Rench said the darkness only increases the fatigue on riders' bodies.
"The evening times are brutal," he said. "When the sun comes up, you get rejuvenated and - on the last laps - you know it's coming to the end. But the evening ones, you feel like a zombie."
The race concludes today at noon. The immediate Gondola parking lot will be closed. Spectators and racers should use the Knoll Lot.