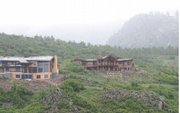 Steamboat Springs — As recently as eight months ago, there were 11 original building lots available in The Sanctuary subdivision at developer prices, some for less than $500,000. Today, those 11 have all sold, and several have come back on the market at substantially higher prices.
Asking prices for a handful of Sanctuary lots are several hundred thousand dollars more than they were when they sold late this winter.
"I'm certain that before the end of summer, we'll see a sale close near or more than $1 million," Vicky Hanna said.
Hanna is a Realtor with Prudential Steamboat Realty who co-listed the original sales with Prudential broker owner Pam Vanatta.
In September 2006, Hanna said the highest lot sale to that date had been $687,500. The lots are unusually large; 1.6 acres is not atypical.
The last original sales in the luxury subdivision this spring were in filing 5 of The Sanctuary on a south-facing ridge just north of the back nine of the Sheraton Steamboat Golf Course.
As recently as March, a developer lot in The Sanctuary sold for $480,000.
Today, among four building sites for sale in the subdivision, the lowest priced lot is $795,000.
Hanna's colleague, Mark "Dutch" Elting, has a listing in The Sanctuary that illustrates how dramatically asking prices in the luxury subdivision have been escalating.
The 1.59-acre lot sold to a California-based limited liability company for $675,000 on March 1 and is back on the market for $995,000.
"That price includes architectural drawings for a home, so it includes about $40,000 of extras. The owner was ready to build a spec house on it," Elting said. "Still, we had one full-price offer and someone just left my office with the paperwork on it. There are just no lots left in the city limits and there are more and more people coming to town."
Another lot in The Sanctuary sold on March 29 for $485,000 and is currently listed for $835,900.
Vanatta said the appeal of Sanctuary lots is that they are large and are insulated from traffic noise in an isolated area close to Fish Creek.
The Sanctuary was developed by two former principals in the Steamboat Ski Area. The Northwest Colorado Ski Corp. sold the ski area to a Japanese company, Kamori Kanko Ltd., in 1989. As a result of their negotiations, the two men agreed to become partners on more than 200 acres of land that wraps in a horseshoe around the back nine of the Sheraton Steamboat Golf Course.
Kamori sold the ski area to American Skiing Company in 1997 and at that time, Hart negotiated to buy out the new ski area owner's share in The Sanctuary.
Hart invested in public trails systems in the subdivision along Steamboat Boulevard, including a steel bridge over the creek that can be groomed for Nordic skiing. Mountain bikers use the trails in summer.
Hanna said current asking prices for Sanctuary lots may reflect "a little irrational exuberance," but quickly added that she has always maintained the subdivision represents one of the best investments in Steamboat.
"Premium vacant land has always been the best equity investment in Steamboat Springs' overall market," she said.
- To reach Tom Ross, call 871-4205
or e-mail tross@steamboatpilot.com