Display dedicated as railroad veterans and enthusiasts remember past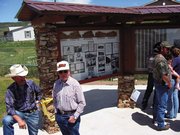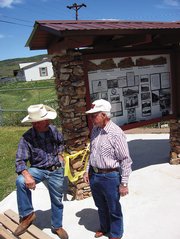 Phippsburg — At the age of 19, Jim Woodcock joined his father, Wesley Woodcock, in 1949 working on the Denver & Rio Grand Western Railroad.
His father left the business in 1951, but Jim Woodcock continued operating trains as an engineer, just like his father, throughout the West until he retired in 1991.
On Saturday in Phippsburg, Woodcock, 77, joined dozens of current and former railroaders in Phippsburg Community Park to dedicate a railroad display in memory of the men and women who made a livelihood working on the railroad.
"This area wouldn't have ever grown without the railroad," Woodcock said. "It's part of the reason why most of us are even here."
The three-panel display is book-ended with memorabilia of the railroads that passed through Phippsburg, including the Denver Northwest Pacific, the Denver & Rio Grande Western, the Denver & Salt Lake, the Southern Pacific and the Union Pacific.
The center of the display features 270 names and the job titles of former and current railroad employees. Each name is numbered - The elder Woodcock is number 33, while Jim Woodcock is 34.
"I'm up there next to my father," Woodcock boasted to his friend, Yampa rancher Dick Palmer.
A ribbon-cutting ceremony kicked off the afternoon's dedication, which was followed by music, food and a whole lot of talk about railroads.
The smells of baked goods, potato salad and roast beef wafted through the air and children ran circles through the park as a band played Johnny Cash's "Folsom Prison Blues."
"Once you get them started, it's hard to change the subject," said Renee Johnson, president of the Historical Society of Oak Creek and Phippsburg, who noted names may be added to the wall by contacting the historical society.
"You always have to give it to a railroader," Johnson said. "A lot of them lived a hard life. You can see the work in their hands, and this area wouldn't be what it is without them."
Oak Creek Historian Mike Yurich said Saturday's dedication would preserve an important piece of Moffat County history for future generations.
"Without the railroad, the mines wouldn't have developed, and the tourists in Steamboat wouldn't have arrived," he said. "Because of autos and airplanes, many have forgotten the importance railroads played in our country."
Yurich added that the display is the culmination of three years of hard work. Old railroaders had to be contacted and money and materials were needed, but he said the finished product is something to be proud of.
"It's not impossible for this small town to have a museum," he said. "There is a lot of history here."
Dutch Ebaugh, 78, joined dozens of his fellow railroaders in the park. Some came from Denver and others came from Grand Junction, but as they pointed to old news clippings and photos on display, they all took a step back in time to when Phippsburg and the railroad were synonymous.
"Next year, it's going to be 100 years since David Moffat brought the railroad to Phippsburg," said Ebaugh, who had 45 years with the railroad when he retired in 1989.
"When we saw the Miners' wall dedicated in Oak Creek in 2003, we knew we had to have a railroaders' wall here in Phippsburg. It's our history, and if you don't document it, it disappears."