DeVincentis recall effort stirs emotions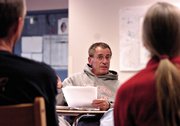 Steamboat Springs — In August 1984, Steamboat Springs citizens voted 336-308 to recall then-School Board President Al Miller, largely due to Miller's attempt to fire legendary wrestling coach Carl Ramunno.
That same month, John DeVincentis began his 21-year career as principal of Strawberry Park Elementary School in Steamboat.
The city has not seen a recall election for a School Board member since.
But during that time, and during his past 20 months on the Steamboat Springs School Board, DeVincentis has frequently been at the center of divisiveness in the school district. He was remarkably successful as a principal but has battled for years with superintendents, School Board members and other district personnel.
He is a man defined by dualities. Support from the community and opposition from colleagues. Kindness toward children and combative, scathing e-mails to adults. Love and hate.
There perhaps is no more polarizing figure in the history of Steamboat education.
"John always brought excellence in education to the district. He was a very smart educator and principal of the school," said Jay Fetcher, who served on the School Board from 1984 to 1993. "But there were times, at the administration level and the School Board level, when (John) wanted things to be different."
DeVincentis, 60, now faces a recall threat, an effort launched after the release of blistering e-mails he wrote about former superintendent Cyndy Simms during 2004-05, his last year as principal at Strawberry Park.
Save Our Schools RE-2, a group that includes former School Board members and several former DeVincentis supporters, is circulating petitions to force DeVincentis to stand for election again in November, two years before his term expires. Paula Cooper-Black said last week that the group has nearly 1,500 of the 1,933 valid signatures necessary to force an election.
Such recall efforts are rare.
"I have not had a similar experience in my 20-plus years as a superintendent," said Superintendent Donna Howell, who came to Steamboat in 2003 and has often been a target of DeVincentis' criticism.
Looking inward
DeVincentis did not mince words Friday about those who made the e-mails public and are now trying to recall him.
"I think this group of people, who will come out in the investigation, are a hateful, spiteful group of people - worse than I ever did," DeVincentis said. "I would never do that to somebody."
The school district is investigating the release of the e-mails, exchanged between DeVincentis and Mercer Island, Wash., teacher Joby McGowan. School Board member Pat Gleason gave the e-mails to the Steamboat Pilot & Today and subsequently resigned from the School Board. Gleason now is among those working on the recall effort.
The internal investigation is to ensure no district policies were violated in the collection and dissemination of the e-mails. Grand Junction attorney Earl Rhodes is conducting the investigation at a contracted rate of $150 per hour. School Board President Denise Connelly has said the board will make results of the investigation public when it is complete. Howell said Rhodes has finished interviewing for the investigation.
The e-mails were taken from DeVincentis' school computer after he left the district in 2005. He used his school e-mail account and school computer to send the e-mails, which were sent between August 2004 and May 2005.
In the e-mails, DeVincentis described Simms as a pathological liar and an idiot, and made references to her divorce, saying, "I can't imagine being married to her. I would have been arrested for battering and abuse!" He suggests she has characteristics of a psychopath and jokes about spitting on her.
He also gives McGowan advice on how to undermine Simms and admits to lying to Mercer Island School Board members to get them to hire the "old maid."
Clicking 'send'
DeVincentis' supporters say the e-mails between DeVincentis and McGowan were private conversations never meant to become public, are outdated, and are not relevant to DeVincentis' work as a School Board member.
But in more recent e-mails, DeVincentis' anger continues. Howell was so concerned about the way she was treated in e-mails from DeVincentis that, on May 15, 2006, she requested an executive session with the School Board to discuss them.
In a May 12, 2006, e-mail to Howell and other board members, relating to a maternity leave issue for a staff member, DeVincentis wrote that he was "irritated" with Howell and concerned about her "ability to make things better for our staff and not worse." Discussing the district's Spanish curriculum, DeVincentis told Howell: "I do not like how you change things arbitrarily at your whim."
The next day, DeVincentis sent an e-mail to Howell saying, "I have grave concerns abut your ability to keep anything together and to inform the Board in a timely fashion abut anything."
On May 18, 2006, DeVincentis sent Howell an e-mail that said, simply, "I'm tired of excuses" after the two had failed to connect for a meeting.
On May 15, 2006, DeVincentis asked Strawberry Park teacher Mike Johnson to read a letter written by DeVincentis at a School Board meeting that DeVincentis could not attend. The letter was highly critical of Howell, saying in part, "hers is not a plan to improve our educational system."
Michael Loomis, a former School Board member, wrote a letter criticizing DeVincentis' remarks as inappropriate for a public setting. DeVincentis responded with a letter that suggests Howell is racist and says he would start substituting "school district" for Howell.
"I can assure you that from now on I will be more politically correct and use as many euphemisms in addressing our public about our 'school district's' failings," DeVincentis wrote Loomis in an e-mail dated May 19, 2006. "Be saddened for our children and the short-sighted vision of our 'school district.'"
Matters of trust
After DeVincentis' letter was read at the May 15 meeting, then-School Board President Tom Miller-Freutel made a public apology to Howell, saying it was his responsibility to stop such personal criticism of Howell in public.
Miller-Freutel said last week his resignation from the board last August was partially spurred by DeVincentis.
"People who are intelligent and have great ideas don't necessarily make great board members, and I think that's the case with John," Miller-Freutel said. "There was so much animosity that John had... Sometimes regardless if he had a good idea, he couldn't approach it constructively. Things would turn into gigantic battles."
Former and current school officials say public trust in the district's leadership is fading - so much so, for example, that the Education Fund Board will not ask voters this year to renew a citywide sales tax for education.
"We're going to hold off for a year and see if we can get a better climate around the whole district," said Loomis, now a Fund Board member.
Mark MacHale, who replaced DeVincentis as principal at Strawberry Park, is leaving the district next month to take over as superintendent in Dolores. MacHale said Friday that he would tell his replacement to "be aware of the political nature of the school district."
"I have to work in a place where integrity is the most important part of what we do, and that's not the case right now," MacHale said Friday. "We have the best teachers I've ever worked with. We have wonderfully supportive parents and a funding base I will be jealous of in Dolores, but the people at the top have to be a model."
MacHale chose his words about the district carefully.
"If I had treated others the way I've been treated, the way the superintendent has been treated," MacHale said, "I would deserve to lose my job."
Great grades
Loomis and Miller-Freutel both support the recall effort. Miller-Freutel is on the recall committee, which next meets Tuesday evening at Howelsen Lodge.
But both men have praised DeVincentis' career as principal.
Loomis was once a member of the "Parents for Dr. D" group.
Miller-Freutel said he "had the utmost respect for John" while his daughter attended Strawberry Park, a school that consistently earned high standardized test scores and School of Excellence awards under DeVincentis.
"I thought the education my daughter received was terrific," Miller-Freutel said.
Bette Van Dahl, who has known DeVincentis for 11 years and seen all three of her children walk through the doors of Strawberry Park, called the recall effort "wasted, negative energy."
"I think it's rare that you find someone who does such a good job that the parents, teachers and the kids all love him," shed. "I always saw (John) go to battle for the kids. He stood up to people above him, that's been his nature. There are people who spend all their time making everybody above them happy; John was the kind of person who took care of everybody under him."
That care earned DeVincentis continuing support from several staff members.
At the school district's end-of-the-year staff picnic Friday, staff members slapped DeVincentis on the back, said hello, or offered other signs of encouragement.
"I want to keep focus on the reasons I ran for School Board," DeVincentis said. "To support students and staff, to increase achievement in all aspects of children, to promote Spanish in the elementary schools, to lower class size, to allow staff input into all areas of our school system, to examine the cost of an enlarging administrator staff and its support system and to make sure the school system reflects our community's desires in all important aspects."
Distraction
Dan Birch served on the School Board from 1997 to 2001. He also is complimentary of the education his three children received at Strawberry Park while DeVincentis was principal. But Birch supports the recall.
"I don't think John is helping the school district right now," Birch said. "The level of vitriol and hate that those e-mails really made clear in John : What John's e-mails showed me really raised questions about his ability to work with the administration. If people had known about the existence of those e-mails before the election, I don't think John would have been elected" to the School Board.
Fetcher said it is fortunate the e-mails were not made public before the election last fall.
"I don't know that we would have passed the Soda Creek bond issue under these conditions," he said. "I don't think the public is very tolerant of this kind of disruptive management."
Van Dahl said she hopes the recall effort will fail.
"I don't want John to lose his passion," she said. "We need experienced people and people with education on the board, and he's got that. I think the big thing that's hanging over everybody's head right now is the investigation. We just need some answers."