Crazy River Dog challenge highlights Yampa events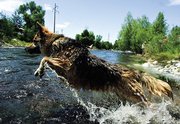 Steamboat Springs — When Steamboat Springs locals band together at the start of each summer to celebrate the Yampa River with a little friendly competition, it's not the human events that bring the biggest crowd.
Once again, it was the Crazy River Dog challenge that packed spectators on both banks of the Yampa and lined the 13th Street bridge to watch the canine action Saturday at the 27th annual Yampa River Festival.
"It's pretty dang funny to watch," said Edward Watson, co-owner of Spiffy Dog Pet Products and Crazy River Dog event organizer and emcee. "The owners will throw the object, and the dog gets it or loses it, doesn't bring it back and they're screaming."
The afternoon event had 27 dog handlers bring their finest fetch-prone water dogs to the north bank of the Yampa, just upstream of the D-hole. A tethered buoy was set midstream, and throwers had to toss an object of their choosing past it for dogs to retrieve and return in a single timed run.
"I gave him some spring training - two practice throws," Dave Terranova said of his family's golden retriever, Lucky. "He's more anxious to get in the water than he is to compete."
As the first few dogs began setting the benchmark times, the antsy animals began tugging on leashes, shaking off water and joining the cacophony of pre-fetch barks and yelps. Terranova knew the pressure was on - Lucky had to live up to his name as the "shop dog," at Terranova's pet supply business, Paws 'N Claws 'N Things, one of the event's sponsors.
Unfortunately, Lucky took an upstream jump above a rock and lost sight of his stick, costing him precious seconds. Other dogs, such as Sarah Katherman's Chesapeake Bay retriever, Echo, ate her Wheaties for breakfast - or, more accurately, a homemade kibble mixture of chicken, oatmeal and vegetables.
But Echo's impressive 9.7-second time did not last long.
Danny Rhodehamel combined a perfect throw over the buoy with the singular tennis ball focus of his four-year-old black Lab, Orion, to claim top honors in 8.5 seconds. Trouble, Kate Ryan's "rotten Aussie," or Rottweiler-Australian shepherd mix, took third in 9.75.
"The big idea here is to get more people out and interested with all the river issues that are so important right now," Watson said of the dog-centric event that actually is, at its core, a way to pull people together around their free-flowing river resource.