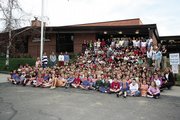 It was a strange form of nostalgia that I experienced this week when readers Nick and Tracy Metzler e-mailed me a photograph of the last class of students and staff at the old Soda Creek Elementary School posed in front of the doomed building.
In case you've been up the creek without a newspaper this year, the old building, built in 1956, will be torn down this summer to make way for a modern school on the same site in Old Town Steamboat. A significant number of Steamboat residents past and present have many memories embedded in the walls of those cramped classrooms.
Soda Creek Elementary was where my son went to kindergarten and first grade. It's where my future wife was working when I met her.
Soda Creek Elementary also was my first place of employment in Steamboat, and the first job I was ever fired from in Ski Town USA.
You heard me correctly. Former Principal Tom Fitch, a great guy, felt compelled in October 1975 to release me from my duties as substitute custodian at the school. Mr. Fitch was about as gentle as a boss could be in carrying out the unavoidable (he actually apologized to me). Still, I couldn't help but be a little indignant over my termination. It was just four months earlier that I had earned my degree in political science from the University of Wisconsin-Madison. I was a semi-serious young man imbued with enough of a work ethic that I didn't think it was beneath my station in life to toil behind a push broom. Besides, I was desperate for a job - any job.
Steamboat Springs was a very different place in 1975 than it is today. I confirmed that impression this week by flipping through a bound volume of the 1975 editions of the Steamboat Pilot (Steamboat Today would not publish its first edition for another 14 years).
I had arrived in town in a tiny red German faux sports coupe called an Opel. It might have been built for the Alps, but it wasn't meant for the Rockies.
I had piloted the Opel from Fort Collins over Cameron Pass and almost turned around before I made it to Steamboat Springs. That stretch of Colorado Highway 14 was unpaved in those days and closed to vehicular traffic every winter. The road was rough, and the snow was falling on Sept 14. I consulted my map and noted I had almost 100 miles to go before I arrived at my destination.
I was alone in the car, didn't know anyone in Steamboat and imagined the road getting progressively worse with every mile.
I renewed my resolve, hit the pavement in Walden and continued on over Rabbit Ears Pass. After I parked in Ski Time Square, I marched directly to the ski area's corporate offices and asked for a job. Stifling a guffaw, the receptionist suggested I come back in December.
I would soon discover that almost no one was hiring in Steamboat in September 1975. There was no construction boom on the horizon. However, there was one "help wanted" ad in the newspaper that had "political scientist" written all over it. Kentucky Fried Chicken was seeking a fryer technician and I hustled my poultry heinie down there to fill out an application.
In 1975, Kentucky Fried Chicken wasn't in Central Park Plaza. There was no Central Park Plaza. Both grocery stores were downtown on Lincoln Avenue. Safeway was on the corner where the post office is now. City Market occupied the building currently housing Chase Oriental Rugs.
The proprietor of finger lickin' goodness was just down the street. You can still spy remnants of the historic structure today. If you're driving by Winona's this weekend focus behind the false façade of the popular restaurant and you'll see a gray dome. Picture it with red and white candy stripes and you'll be able to recognize the vestiges of the Neo-Kentucky Colonial architecture.
Anyhow, the manager of KFC told me I was over-qualified for the position.
It was with a sense of urgency that I responded to an ad for a part-time custodian at Soda Creek Elementary. The longtime senior custodian was seriously ill, and my job was to work a night shift. My primary function was to vacuum the carpeted classrooms. My least favorite duty was swabbing the boys and girls lavatories.
For some reason the faculty could not pin down, the third-grade boys were hell bent on aiming for the urinal from across the room. They rarely hit their target and frankly, that chore stunk.
One night, the vacuum cleaner broke down. My course work at the UW had not included vacuum repair 101, so I abandoned my chores for the night. I figured the students could survive one day with paper scraps on the floor.
I was mistaken. The senior custodian insisted I should have repaired the vacuum cleaner and demanded that Mr. Fitch terminate me.
Wherever you are Mr. Fitch, I've long since forgiven you. My new ski bum buddies and I qualified for food stamps (I cringe when I make that confession) and spent the rest of a lazy autumn exploring Fish Creek Canyon and Buffalo Pass.
If any of you get a chance this week, hustle by the little school on Soda Creek where so many eager youngsters learned the three R's - the same place where I learned a lesson in humility. Do it soon, before they haul it all away to the landfill.