Sectional championships highlight weekend of tennis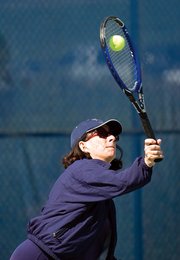 Steamboat Springs — Fran Micka has made the trip to Steamboat Springs from Avon for the past fives years to kick off the summer with some serious tennis.
"This is the first big one of the season. It's always fun - there's good competition and a fun party," Micka said Friday morning before her first match in the 60s singles division of the 2007 Intermountain Senior Sectional Tennis Championships. The Alpine Bank-sponsored championships started Friday at the Tennis Center in Steamboat Springs and will run through the finals matches, which begin at 8 a.m. Sunday.
"The tournament features, hands-down, the best players in our six-state (United States Tennis Association) section - we've got two players with USTA national championships here," Tennis Center director Jim Swiggart said of the 138 players, ages 40-75, drawn from Colorado, Idaho, Nevada, Montana, Utah and Wyoming and divided into divisions according to five-year age increments.
"Anybody that can take their game on the road is going to be pretty good," said Molly Orr, a Steamboat Springs resident who didn't have to travel far.
Orr was looking ahead to her first match of the day against Micka, one she would have to win if she hoped to stay alive in the finals bracket. She noted her excitement in being able to use the indoor courts at this year's tournament to help reduce layover time between matches.
Swiggart also was pleased to see 12 of the Center's 16 open courts in use for the tournament. He believed that winter training access to the six new indoor courts determined the dramatic increase in local participation in the championships. In its 12th year in Steamboat, Swiggart said, "this is the best participation Steamboat players have ever had." The following 20 local participants are competing: Swiggart, Orr, Jean Wolf, Ed Mooney, Dave Schaller, Stacy Swiggart, Charles Schultz, Maria and Bill Pixley, Evlyn Berge, Becky Lamb, Kathi Skytta, Barb Siek, Galen Redinbo, Fred Reynolds, Paul Hughes, Patrice and David Lorenzen, Sue Swain and Betsy Chase.
The event is free and open to spectators. Swiggart said two courts will be available for public play through the weekend. To reserve courts or to request information on the Junior Tennis Academy and the junior Summer Tennis Camp, both of which start their first sessions on Monday, call 879-8400.
- To reach Dave Shively, call 871-4253
or e-mail dshively@steamboatpilot.com