Past Event
Friday, June 8, 2007, 5 p.m. to 8 p.m.
Steamboat Art Museum, 807 Lincoln Ave., Steamboat, CO
Not available / Free - $2
Photo Gallery
Western Art Exhibition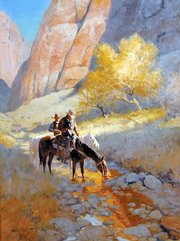 An impressive collection of artwork reflecting Northwest Colorado history and culture debuts tonight at the Steamboat Art Museum.
The third annual Western Art Exhibition features a diverse body of artwork that includes oils, watercolors, lithographs, etchings, drawings, photographs, bronze sculptures and Western artifacts such as antique saddles, bits, spurs, chaps, moccasins and hats.
Rod Hanna, a Steamboat Art Museum board member, said the museum is eager to bring the popular exhibit back to Steamboat Springs.
"Our whole thought was to reflect the heritage and culture of Northwest Colorado through art," he said.
The exhibition, which is sponsored by Sidney Peak Ranch, features artwork from nationally renowned artists such as John Fawcett and William Matthews, past and present local artists and works that were created in the area by visiting artists.
None of the pieces at the exhibition are for sale, Hanna said.
"What's unique about this exhibit is that a majority of the art has been loaned to us from art collectors' personal collections," he said. "Most of this art comes from homes in and around Steamboat Springs."
Hanna said previous Western Art Exhibitions drew about 4,000 people.
"Steamboat's known for a lot of things, I suppose, but it's lesser known for its fabulous art collections," he added.
The exhibition features works by known artists such as Koerner, Norton, Moyers, Mackey, Nordhal, Furlough, Jacob, Vigil, Stack, Kapp, Hagen, Howell, and sculptures by Williford, Fraughton, Fellows, Zabel, Fox and Carlson.
The exhibition runs through Sept. 9. The museum is open from noon to 8 p.m. Tuesday through Saturday and from noon to 4 p.m. Sunday. There is a suggested donation of $2.