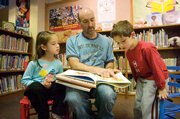 Steamboat Springs — Curling up with a book on a lazy summer day may need no incentives, but the Bud Werner Memorial Library is offering prizes and activities this summer to youths who do just that.
Staff at the children's and teens sections of the library are offering a reading incentives program along with sponsoring a young authors and artists camp to keep minds and imaginations active once school lets out.
"The idea is to have them excited about reading and reward them with a book," youth services librarian Currie Meyer said. "Kids love to read, and books are treasures. I mean, what can be better than getting a book?"
Meyer said several research studies have indicated students lose as much as two months of school learning if reading takes a back seat in the summer.
"Experts recommend six books to a summer," she said. "But for a first-grader, one book may take an entire summer, while a fourth-grader may read all six in a month. We just want to get them ready for their future by getting them to read whatever they are interested in. It's so important for educational success."
Meyer said more than 400 children participated in the "Laugh it Up!" summer reading program at the library last year. This summer, "The Sky's the Limit" program will encourage children ages 5 to 10 to complete 24 hours of reading time. The program begins Monday and runs through Aug. 3.
Each reader will receive a space-themed map to track reading milestones. After every three hours of reading, the child will collect a prize. Prizes were purchased by the library and local sponsors, and include free ice cream cones, stickers and glow-in-the-dark alien action figures.
The teen reading program is coordinated by youth services manager Alison Lambart, whose program focuses on pages read rather than time spent reading.
"We ask teens to read 1,000 pages," Meyer said. "We don't care what they are reading - books, newspapers, magazines, whatever. The goal is to read for fun."
Teens who complete 1,000 pages earn a $10 gift certificate to local sponsors such as Quicksilver Boardriders Club, Sliver Lining, The Click and The Potter's Wheel, along with Off the Beaten Path Bookstore.
Meyer added that the library expansion scheduled for groundbreaking July 9 will force all subsequent activities to be held in West Lincoln Park, while activities before July 9 will be held in the grassy area adjacent to the library.
"Parking may be tough since we always have a great turnout, but as long as the kids get outside, make some noise, run around and have a good old kid time, then it's a success," she said.
Other summer reading program activities include a trivia raffle, free entertainment and Penny Pages, which raises money to support Hawk Quest, a Colorado charity that supports hawks, owls and eagles.
"At the end of the summer, the Hawk Quest people are going to come and do a program for us on the lawn at West Lincoln Park," Meyer said. "They'll have live hawks, eagles and owls."
For more information about the summer reading program, call Bud Werner Memorial Library at 879-0240.