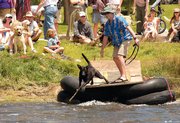 Steamboat Springs — For 27 years, Steamboat Springs' local river enthusiasts have organized at the start of each summer to celebrate the Yampa flowing through town.
Friends of the Yampa, a coalition of river runners and stewards, hosts the Yampa River Festival, which starts today and runs through Sunday. Members of the group divvy up responsibilities and hold a string of weekend competitions that test everything from the strongest paddlers and the longest fly-casters to the fastest dogs.
"This is all grassroots - and that's what makes it special," said member Tommy Larson, who will direct the kayak rodeo event.
The freestyle rodeo will be held at the D-hole near West Lincoln Park at 3 p.m. Saturday, wrapping up the main day of river events. The rodeo will feature two adult divisions (intermediate and expert) as well as a junior division for youth 16-and-younger.
"They'll be judged on time in the hole, difficulty of tricks, number of tricks completed and overall style," Larson said of the event that will pare down the competitive fields after two, 30-second preliminary runs.
Many spectators may want to show up an hour prior to the rodeo to watch the Yampa Valley's toughest canine competitors fight for the fastest fetching times in the popular Crazy River Dog challenge.
"It's for anybody and for any dog that can swim," Spiffy Dog's Edward Watson said of the event he will run, starting at 2 p.m. just downstream of the 13th Street bridge, above the D-hole.
Dogs take one timed run at a stick or object tossed past a mid-river buoy. Cost is $5 per dog, and Watson reminded handlers that pets must be leashed when not competing.
While the dogs are leaping, local fisherman will be casting in a distance and accuracy contest in West Lincoln Park.
The downriver race, open to all craft able to be paddled, will start at 9 a.m., from River Creek Park and participants will launch in one-minute intervals for a mad dash through town to the Stockbridge Park.
The downriver raft race also will launch in one-minute intervals, starting at 11:45 a.m. from Fetcher Park and ending at Charlie's Hole. Rafters should arrive at 11 a.m., for check-in at Fetcher Park. Cost is $35 per team or $100 for teams wishing to use the handful of rentable rafts.
Saturday's events wrap up at the Steamboat Springs Community Center, where there will be a silent auction at 5:30 p.m. to benefit Friends of the Yampa, followed by a presentation from local author and Paddling Life publisher Eugene Buchanan on his recently released book, "Brothers on the Bashkaus: A Siberian Paddling Adventure."
The action will continue Sunday, with the slalom boaters taking over the course at Dr. Rich Weiss Park, starting at 11 a.m., with registration at 10 a.m.
"The slalom should really be cool," said John St. John, one of the festival coordinators. "The gates are in good shape. Last year, there were about 14 people there, a family from Denver, some local folks in kayaks and canoes and some (two-man open canoe) boaters."
Registration starts at 6 p.m. today at Sunpie's Bistro, 735 Yampa Ave.
The rodeo costs $20 per person to participate, which includes a T-shirt. Unless otherwise specified, cost of events is $15, or $45 for an all-event pass. Race and rodeo participants also will have to pay a mandatory $10 bib deposit.