Scott Stanford: What's up? The price of gas and other data
Scott Stanford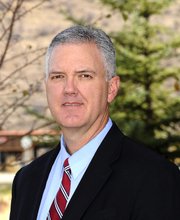 Scott Stanford is general manager of the Steamboat Pilot & Today. Call him at 970-871-4202 or email
sstanford@SteamboatToday.com
When we bought our Dodge Durango in February 2004, I read somewhere in the owners manual that our 5.7-liter, Hemi V-8 likes mid-grade fuel of 89 octane or higher.
Well, when mid-grade went to $3.49 a gallon about a month ago, I decided that the Hemi would have to grind it out on 85-octane gas. The difference in price was 20 cents a gallon Wednesday at 7-11. Hey, that's about $4.50 on a full tank - definitely worth the risk.
I checked Wednesday and the prices of milk, coffee, soda, bottled water and most household cleaners all cost more than gasoline, but for whatever reason, I give them far less consideration than the price of gas. I think most readers take a similar approach. Only the price of housing gets talked about more.
To help you gauge your gas gauge, the Pilot & Today is reviving an old feature. Each week, we will publish gas prices from the 11 stations in the city. The prices will appear on the front page of the Monday newspaper along with the state and national averages reported by AAA.
The gas prices chart, I think, is an example of the kind of thing the newspaper should do more often. Sometimes, a story is better told through raw data than through a story. If there are other such useful data you think the newspaper should provide, call or e-mail me.
Recall letters
The newspaper is slightly revising its position on recall letters. A couple weeks ago, I wrote that we would not run letters advocating or opposing the effort to recall School Board Member John DeVincentis. We were trying to avoid letter-writing campaigns on both sides.
Since then, I have fielded complaints from both sides that our reporting on the issue has been inadequate, biased and unfair. To summarize - not all sides of the story have been told and the stance has forced groups to pay for advertising they cannot afford.
I think we have been fair and balanced, and I stand by our reporting on this story. But I certainly don't want to withhold criticism of that reporting from our readers.
As a result, we will print letters from both proponents and opponents of the recall effort on the Viewpoints pages of Sunday's Steamboat Pilot & Today. This will give readers other views on the matter that I hope will be helpful in evaluating where they stand on the matter.
Scott Stanford's From the Editor column appears Thursdays in Steamboat Today. Visit his blog at steamboatpilot.com/stanford, call him at 871-4221 or e-mail editor@steamboatpilot.com