Mountain bikers ready for 24 Hours of Steamboat race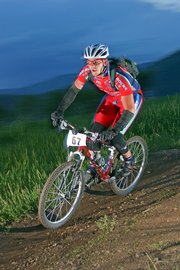 Steamboat Springs — Nate Bird can taste the steady stream of energy gel and coffee.
"It just gets harder and harder to get food down," said Bird, who knows he'll need to keep burning fuel through the night to wrap up a victory in the men's duo division of the Rio 24 Hours of Steamboat race.
The endurance mountain biking race is entering its fourth year, going from a Le Mans start at noon Saturday to a finish at noon Sunday. Event co-director Katie Lindquist expects around 250 participants in 12 divisions - solo, duo, four-man, five-man and corporate teams (6-10 members) spread across genders and skill levels - to compete in a race to notch as many 11-mile laps as possible in either 12 or 24 hours.
Bird knows the catch is that each lap has an elevation gain of more than 2,000 feet on the singletrack trails that wind up Mount Werner.
"I think the winning duo team had 16 laps last year - that means I'm looking at riding up to Thunderhead (Peak) eight to 10 times," said Bird, who plans to team with Clark Stewart, part of the 2006 winning duo team with Craig Rench. "We rode together yesterday and I'm pretty confident we can win it."
But conditioning is only half of what it takes to win.
"It's more mental when you know what you've signed up for - not bonking or getting annoyed and pissed off because you're punishing yourself," Bird said. "And then the sun comes up and you get rejuvenated with extra energy."
Lindquist, herself a world 24-hour mountain bike champion, knows the mental game can make or break the solo riders.
"With a four-person team, you're at race pace, but you get to rest," Lindquist said. "But solo, it's more important to have a brain about you to ride 24 hours - eating, drinking, having a good attitude or just hiding your bad attitude."
While Lindquist said about one-third of the competitors will be local, the race is pulling in more out-of-state entries and has earned the right to serve as a qualifier for the September 2007 World 24 Hours of Adrenalin Championships. Registration and packet pick-up runs from 3 to 8 p.m. Friday at Ski Haus, 1457 Pine Grove Road. Racers can drop off registration until 8 p.m. at Ski Haus or fax it to 879-0481.
Lindquist reminded racers looking to pre-ride the course that the Why Not service road will remain closed until Friday afternoon, when the race trail will be marked and open.
Volunteers still are needed for all shifts from Friday through Sunday. Those interested should call Abi at 819-0781. The immediate Gondola parking lot will be closed. Spectators and racers should use the Knoll Lot.
Visit www.rockypeakproductions.com for full event registration and course details.