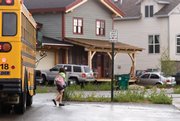 Steamboat Springs — Steamboat Springs' new affordable housing ordinance could generate millions of dollars annually.
But exactly how that money will be spent still must be resolved, city officials acknowledged Wednesday.
On Tuesday night, the City Council approved an inclusionary zoning and linkage ordinance that requires new development to help provide affordable housing.
The linkage fee alone will produce $1 million for every 54,000 square feet of new commercial development, assuming developers choose to pay the fee rather than build the required workforce housing. Linkage fees on residential construction and payments-in-lieu of meeting inclusionary zoning requirements will add to the revenues.
All of the new funds will go into a distinct account reserved for affordable housing efforts, City Manager Alan Lanning said.
"Now that it has passed, it is incumbent upon us to put in place mechanisms that will actually build affordable housing," Lanning said. "As we approach budget season this year, I'm sure we are going to have some ideas for how to use those funds."
Councilman Towny Anderson called the approval of the ordinance "a watershed event" for the city.
"I've been getting calls today from people saying, 'My God, we've been talking about this for 30 years. I didn't think you'd ever be able to do it. Congratulations,'" he said.
Councilwoman Karen Post said Tuesday night that while the council was approving a housing ordinance to generate significant revenues, she has not yet seen even a "skeletal plan" for spending those revenues.
But Anderson said getting the ordinance approved was the critical first step in the affordable housing process. He said the city has a plan for spending the money - it's just not on paper yet.
"I can't speak for council," Anderson said. "But what I hope will happen is that we will set up a housing fund and the money will be funneled to the (Yampa Valley) Housing Authority to give us more flexibility to meet the community's housing need."
The Housing Authority was created by the city and Routt County in 2003. It relies on grants and donations from the city and county for funding. City Councilman Loui Antonucci, who voted against the new housing policy Tuesday night because he thinks the fees are too high, said it makes sense for the City Council to use the new revenues to help the Housing Authority.
"Personally, my vision always has been (that) the Yampa Valley Housing Authority is the city's arm for developing affordable housing," Antonucci said. "The reason we (created the authority) is that we really didn't think the city should be in the housing business. I certainly think working with the authority on developing a plan and giving them the funds to execute that plan would be the most appropriate use" of revenues from the new housing policy.
Mary Alice Page-Allen, a Routt County planner and the president of the Housing Authority's board of directors, said the approval of the new ordinance creates a new pool of housing funds. But she said it was premature to say how the ordinance might benefit the authority.
"It is money collected by the city that is under the control of the city," Page-Allen said. "As far as anything specifically, we haven't had that conversation with them."
The city and the Housing Authority have held joint sessions in recent months to clarify roles and responsibilities, Page-Allen said.
"Our current relationship is if we have a project that we need funding on, we talk to the city," she said. "It's on a project-by-project basis. I don't know whether to anticipate any change in that process."
Page-Allen said the Housing Authority will continue to explore a permanent funding source, including a sales or property tax. The agency has been conducting polling to gauge public support for such a tax.
Antonucci hopes the council majority shares his vision of using new revenues to help the authority, but he said the council and the authority have not always been on the same page in recent months.
Anderson said funds could be used to meet housing needs that are not likely to be pursued by private developers. Examples include land acquisition, multi-unit rental housing and neighborhoods like West End Village that include a mixture of market-rate housing and deed-restricted homes.
Anderson is confident the money will be put to good use.
"There is this fear that the funds will go down a black hole, but once you put a fund together, it can't be robbed," Anderson said. "Those funds will be spent to meet the community's housing need."
- To reach Scott Stanford, call 871-4221
or e-mail sstanford@steamboatpilot.com.