Hanley returns from CU camp
Sailor football player gains experience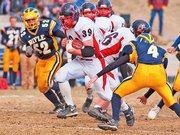 Steamboat Springs — Although it was just a camp, Jay Hanley couldn't hide his competitive spirit.
As one of the football players invited to the University of Colorado's "Friday Night Lights" and Nike camp, Hanley - a soon-to-be senior at Steamboat Springs High School - said the urge was to do what he does best and go play.
"The entire time, I was wanting to put on pads and go play," Hanley said about the Friday camp that put players through a slew of drills.
While Hanley didn't get to show the bruising running style that made him a first-team All-League performer as a junior, the drills and competition gave him a better picture of what Division I football is all about.
"I came away with a good sense of what kind of guys I'd be playing with," said Hanley, who finished last season with more than 1,300 rushing and 14 touchdowns despite missing two games. "A lot of major recruits were there. I got to do some cool drills and got a good feel what Colorado's program is all about."
Although Hanley was unable to compete in Saturday's camp because of a busy workload and prior commitments, his experience Friday gave him a better idea of where he stands against some of the top players in the 2008 recruiting cycle.
Along with speed drills, Hanley said he went through a lot of one-on-one drills, pass-catching drills and conditioning drills.
"Up to now, I've just had coaches telling me what their programs are like," he said. "There, I got to experience it."
Hanley said the camp featured between 10 and 20 players from Colorado with the rest coming from surrounding states, including powerhouses such as Texas and California.
Although Hanley wasn't the fastest running back at the camp, he did say he was the biggest.
"It was harder than I expected, but it was a good time," he said, noting he wants to work on becoming a more all-around running back. "It was mostly testing how competitive you were. It was some of the best competition I've ever played against by far."
While Hanley hopes to garner the attention of Division I football coaches - possibly attending three or four more elite camps this summer - he said his focus is on his senior year and helping the Sailors return to the playoffs for the third straight season.
"Now, I'm just concentrating on being with my team," he said. "I'm more focused on high school than college right now. I'm planning for the future, but I don't want to regret not working with my team."
Steamboat football will have a team camp beginning June 11 to 14. The Sailors then will attend the Mesa State Football Camp.