Youth lacrosse staying alive
Season ends with tourney success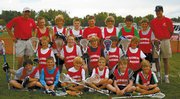 Steamboat Springs — Steamboat Youth Lacrosse Director Neill Redfern has an easy gauge to determine how well Steamboat fares at a tournament - how many teams are still alive on the final day.
On Sunday, the final day of the 13th annual Warrior Rocky Mountain Lacrosse Jamboree in Arvada, Redfern was pleased to see four of the seven Steamboat teams still in the running for age division titles.
"At 12 o'clock, Sunday, for four teams to be playing in a double-elimination tournament that started at 4 p.m. on Friday, that's a great Steamboat representation," Redfern said.
Not a bad showing for a massive youth tournament that brings 260 teams from across the state together to play a weekend of continuous games on 19 fields. The Jamboree presented the final games of a late spring schedule of tournament games for five SYL boys teams (grades four through eight) and two girls teams (grades six to eight).
The eighth-grade boys team highlighted Steamboat's performances by winning its first four games of tournament play to top a 16-team pool.
Along the way, Steamboat beat West Side 3-2 in overtime and then beat a previously undefeated Boulder Valley team, 4-1, to advance to the division championship. In the title match, Steamboat met West Side again, who returned the favor by beating Steamboat, 3-2. Redfern said the game was a great finish to a great year that included 17 games for the eighth-grade squad.
The fifth-grade boys team also earned runner-up honors in its division. After losing their first game, the fifth-graders won five straight to advance to the finals, where they lost to CityLax.
The Steamboat sixth-grade boys won their first three games, including a win against a competitive Columbine squad to take third place, Redfern said. The seventh-grade team was the only SYL team to play up in the more competitive "white" division, and it held its own by winning its first two games of the tournament.
"It was a great way for the teams to get game experience, and now we'll roll right into all our summer league stuff," Redfern said.