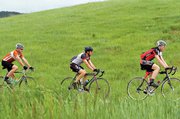 Steamboat Springs — It was no surprise to Tom Davis that a couple of teenagers were contending for pro/open division titles at the first Steamboat Springs Town Challenge Mountain Bike Series race last week at Howelsen Hill.
To Davis, the cycling program director for Steamboat Springs Winter Sports Club, those teenagers - Bryce Gordon and Katherine Ingalls - are the race-savvy result of his summer program, now entering its fourth season.
"The way the cycling club is structured, we want to teach kids the skills for competition," said Davis, a former U.S.A. Cycling Team member. "But we want to start by teaching kids to be proficient on their bikes, learn maintenance and instill a lifelong love of the sport."
Gordon and Ingalls are currently the No.1-ranked cross-country mountain bikers in the Mountain States Cup endurance race series for junior expert men and women. Davis believes that the summer-long program can help produce the next breed of cyclists who are ready to step onto the regional race circuit.
"We really want to create a road race environment for kids to experience races and to encourage the sport," Davis said.
The youth program has a "development" skill group (ages 11 to 15) focused on honing the fundamentals and a more advanced "carbon" group (ages 15 to 18). Both balance the local mountain bike races of the Town Challenge Series with a road-race training series throughout the summer. What makes the program unique is that these road-race series events incorporate an adult group that Davis sees as the perfect way for veteran riders to provide mentorship to the younger riders.
These adult "steel club" riders pay $30 for a summer membership to participate in the events, which range from time trials up Rabbit Ears Pass and out River Road to criterion races around the Copper Ridge Business Park.
Davis breaks the racers into various ability groups to keep competition friendly for the junior races, especially considering that he had 45 "steel club" riders last year.
"They have well into their whole lives to compete, so we just want to introduce racing and not force competition on them at too early of an age," said Davis, who will coach the program with Ben Clark and a few parent volunteer coaches.
The Winter Sports Club cycling club will host an informational meeting about its youth (ages 11 and up) and adult summer programming at 6 p.m. today at Olympian Hall in Howelsen Hill Lodge. Visit www.sswsc.org for more details.
- To reach Dave Shively, call 871-4253
or e-mail dshively@steamboatpilot.com