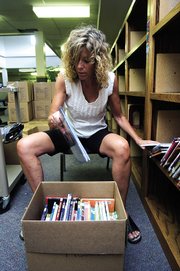 Steamboat Springs — In three months, Julie Ernst's son will start his first day of third grade in a row of modular units as Soda Creek Elementary is demolished and rebuilt.
The layout of the temporary school facility is set, but Ernst joined more than 40 other parents and neighbors Tuesday night to talk about traffic and safety concerns related to the site adjacent to the George P. Sauer Human Services Center at Seventh and Pine streets.
"How about we set up a remote drop off down the street where parents can park their cars and walk their children to school," Ernst suggested.
It was an idea met with approval by Soda Creek Principal Judy Harris.
"It's an amazing idea," Harris said. "We didn't think you would agree to do that."
Todd Ficken, the school district's owner's representative for the major school construction project, said the goal of the meeting was to gather input from parents and Old Town residents to develop a strategic plan around the established blueprints.
"I'll be straight up, there is no parking," said Ficken, who noted the site has approximately 15 spaces for 62 staff members, not including the district employees who work in the central office also at the site. "These are going to be reserved for key staff."
Ficken presented two plans that differed only about where buses would unload children.
Some advised unloading kids at three separate entrances to alleviate congestion, while others argued one drop-off point would be the safest option.
All agreed traffic on Seventh Street needs to be controlled.
Harris said school officials would work closely with the Steamboat Springs Police Department to calm traffic, but Ernst said more has to be done to ensure safety.
"I like the idea of putting stop signs at Seventh Street and Eighth Street," said Ernst, while another parent urged a third stop sign between the two streets.
Both plans proposed turning Pine Street - between Seventh and Eight streets - into an eastbound, one-way road. A row of concrete barriers would transform the westbound roadway into a play zone for the children.
The proposed blueprints were annotated with suggestions after nearly two hours of discussion. Many parents mingled afterward and mulled further suggestions in front of the two easels that displayed the plans.
But Ficken noted the modular units already are en route and the School Board has approved the temporary facility. The input gathered Tuesday will be worked into the traffic and security plans, but revisions on the physical plan cannot be made.
"These are the cards we have been dealt," he said. "We have to look at how we should proceed from here. On the 18th of June, this building is coming down."
Other concerns included how children would safely go to and from restrooms, redrawing school bus routes and how to keep sexual predators off campus.
"This building we are in has been here for 50 years and we have been stuck in a lot of our ways," Harris said. "This experience gives us a chance to look at this in a new way. It's exciting.