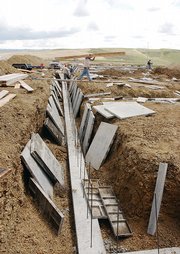 Steamboat Springs — Hayden officials hope to gain more control over the continually increasing rate of new construction in town.
During a meeting with the Routt County Board of Commissioners on Tuesday, Hayden Town Manager Russ Martin told commissioners Hayden is considering creating its own building department and requested that the town be allowed to end its current intergovernmental agreement with the Routt County Regional Building Department as of Dec. 31.
The agreement requires 12 months notice, however, and the commissioners balked at cutting that transition period in half.
"We have an agreement," County Commissioner Nancy Stahoviak said. "It says 12 months. It's in there for a reason."
Commissioners Diane Mitsch Bush and Doug Monger agreed. The commissioners said 12 months was needed because of the number of projects currently in progress and to allow enough time to figure out the impact Hayden's departure will have on the county's Building Department.
"There are a lot of projects right now in progress," Mitsch Bush said. "Our director, Carl Dunham, has already hired staff. There are other budget commitments; this is not the time to wind down."
Stahoviak also expressed concern that letting Hayden out of its agreement early would set a bad precedent for other municipalities in the county. Martin said he requested the early release to coincide with Hayden's and Routt County's fiscal calendars and because he wanted to start fresh in the winter when construction is slow.
Martin said he has been in contact with the Colorado Inspection Agency, a contract provider for building and safety services, for two to three years. The agency handles building departments for several small Colorado towns. Last month, it provided Hayden with a proposal for how it would handle Hayden's building department if the town contracted it to do so. However, the Hayden Town Board of Trustees has approved nothing more than letting the county know the town wants out of its current agreement.
"Whether to move on or rework our agreement with the county is still up for discussion," Martin said.
Martin provided several reasons for leaving the current intergovernmental agreement. He said it is cumbersome for people in Hayden to have to travel to Steamboat Springs several times during the building process. Martin added that problems had arisen from county personnel being unfamiliar with Hayden codes. Overall, Martin said centralizing the building and planning process from the beginning would allow Hayden to provide better services and estimated that it could cut two to three weeks from the total planning process.
"I want to make it a full-service city," Martin said.
Monger suggested investigating whether the county could change to provide the services Hayden is looking for. The idea was met with skepticism, however, as both Martin and Stahoviak said it would be impractical to expect county planners to be fully versed in Hayden building codes.
"I can't see how that can ever happen through the county," Stahoviak said. "We will be operating under the assumption that Hayden will be leaving our building department."
Martin said hiring a contractor such as the Colorado Inspection Agency to provide its building department has many benefits. He said it would be preferable to Hayden hiring its own building department staff because of the risk of wasting money if construction waned. Hayden would pay the agency only when it needed something. Martin said the agency also offers wide-ranging expertise, whereas a small staff hired by the town may not.
Working with the Colorado Inspection Agency also may prove financially beneficial. Martin estimated Hayden would keep 20 percent of building fees with the other 80 percent going to the agency. Martin said it was unknown whether this would result in higher, lower or the same fees currently charged.
Last year, Routt County collected about $70,000 in building fees from Hayden. More than $100,000 is expected this year.