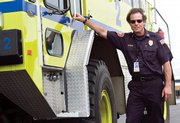 Steamboat Springs — Hayden firefighter Dal Leck isn't your typical 52-year-old. He isn't even your typical firefighter.
Leck recently took first place in the "Over 50" category at the 16th annual Scott Firefighter Combat Challenge in Deerfield Beach, Fla.
Leck, who has competed in the physically demanding challenge for six years, was the only Northwest Colorado firefighter to compete. Leck is a volunteer firefighter with the West Routt Fire Protection District and a full-time firefighter for Yampa Valley Regional Airport in Hayden.
"I got into it to try to promote fitness amongst firefighters in this area, and this is my way of doing it," he said.
Leck has placed in the top six in his age group at every national competition he has attended. He has placed fifth, sixth and ninth at the world competitions for which he has qualified.
West Routt Fire Protection District Chief Bryan Rickman said the department is grateful to have Leck on the team.
"(Leck) does a heck of a job, there's no doubt about it," Rickman said. "This is something he trains for all year. He's very dedicated."
Ashley Kelly, event coordinator for the Scott Firefighter Combat Challenge, said the competition is stiff.
"What these guys do is tough, and they do it so quickly," she said. "It's phenomenal."
ESPN has broadcast the challenge for the past 10 years and has called the competition "the toughest two minutes in sports," she said.
"When you're done, you're spent," Leck said. "Your legs feel like rubber. It's all you can do to stand up."
The challenge, which includes simulations of real life firefighting such as climbing a five-story tower with a 45-pound pack and dragging a 175-pound dummy 100 feet, began as a research project to develop a job-related physical ability test for firefighters. The challenge has since evolved to an event attracting more than 1,000 firefighters from all over the world to compete in regional, national and world challenges.
"It's definitely growing in popularity," Kelly said.
Leck said he looks forward to competing in the national challenge in Las Vegas in November.
"It's all about the bragging rights," he said.