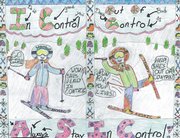 Steamboat Springs — Travis Holmquist doesn't know where his daughter got her artistic talent, but the Soda Creek Elementary School fifth-grader continues to win awards for her art nonetheless.
Alice Holmquist recently won a national skiing safety poster contest in May.
"She's the only one in the family who draws," Travis said Monday. "It's been tremendously fun watching her develop her talents and receive such positive feedback and recognition for it."
Alice won the sixth annual National Ski Areas Association National Kid's Safety Poster Contest. Alice is the third Steamboat Springs student to win the contest since it began in 2001. Devin Wilkinson won in 2004, and Daniel Bockelman won in 2001. The posters focus on being safe while skiing and snowboarding.
Alice's poster depicts two female skiers - one in control, one out of control - with the safety message "Always stay in control" written beneath the two skiers. The colorful poster is bordered with mountains, snowflakes, ski boots, poles and gloves.
Winning the national poster contest was all in a day's work for the young artist.
Alice also was named one of five statewide honorable mentions for a "Tar Wars" poster and poem she created in March as part of an anti-tobacco campaign. Alice's project won first place at Soda Creek Elementary School and was entered in the state competition. Alice also drew a poster and wrote a poem remembering the astronauts who died in the space shuttle Columbia's explosion in 2003.
At the time, Alice said she "drew a picture of the world and hearts around it so (astronauts) know:that we cared that they died."
Travis said he is proud of his daughter's many artistic accomplishments.
"We always encourage her, but she mostly draws on her own ambitions," he said. "She's done a great job and gets a lot of enjoyment out of it."