Tom Ross: Would you take $4 for that porcelain rooster lamp?
Tom Ross
Tom Ross' column appears Tuesdays and Saturdays in Steamboat Today. Contact him at 970-871-4205 or tross@SteamboatToday.com.
Find more columns by Tom here.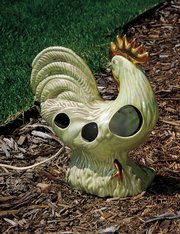 Steamboat Springs — If you've never set eyes on a 1960s-era TV mood lamp in the form of a porcelain rooster, you're welcome to swing by my office cubicle this week and check one out. It's a dandy.
What is a television mood lamp? I have to confess I'd never heard of such a thing until Sunday's multi-family garage sale out on Twentymile Road. But as soon as I saw it - and realized it could be mine for $4, I knew I had to have it.
The rooster stands about 14 inches high and is pale avocado in color with metallic gold highlights on its foot, comb and tail feathers. But that's not the best part.
The rooster has a carefully hidden electric switch behind its tail and a small light bulb embedded in its body cavity - right about where the gizzard ought to be.
A series of three cutouts allow the light from the bulb to escape the back of the rooster. The idea is to place the statuette on top of your television set, where it sets a special mood. If you ask me, it's darn romantic. If you ask my wife, it's not so romantic.
If the porcelain rooster TV mood lamp doesn't turn out to be my ticket to an appearance on PBS' "Antiques Roadshow," I can always use it as one of those gag holiday gifts. I'm thinking of the kind of gift that makes the rounds of extended family members for the better part of a generation.
Generally speaking, I try to restrain myself from exploring garage sales for other people's unwanted treasures. I've always had an ability to accumulate junk without paying cash for the castoffs of others.
My willpower broke down this spring when our expensive blender broke. We ordered a replacement part, but it's proven next to impossible to remove the broken part in order to install the new one. Out of frustration and maybe a little defiance toward a certain major appliance manufacturer, my wife began prowling garage sales for a perfectly serviceable $4 blender.
It's funny how garage sales work. On Saturday, Judy called me on the phone from the TIC mega-family garage sale to tell me she had spied a complete kayak setup at a bargain price. She thought it might have been perfect for our newly minted 21-year-old. We passed on it because she was uncertain if it was modern enough to be desirable.
The very next morning, at an entirely different garage sale - the same one where I found the porcelain rooster, I stumbled on the exact same kayak setup. This time I grabbed it. For $200, I scored a Perception play boat along with a paddle, helmet, new skirt and two dry-tops. The grown-up boy went kayaking that afternoon.
So, if you're not checking out the garage sale ads in the Steamboat Today on Thursdays and Fridays, you could be missing the boat - literally.
Here's another great find.
Two weeks ago, Judy came home with two cowboy hats. One was a decent straw hat, but the second was a genuine Beaver Brand cowboy hat with 10x beaver fur felt. For the uninitiated, that means the hat was made using a high content of expensive beaver fur.
This hat is extra cool because it was originally purchased from Harwig's Saddlery, which hasn't operated on Lincoln Avenue for many years.
My wife, who looks darn romantic in the felt hat, acquired the two chapeaus for 50 cents apiece. I took the old Beaver Brand hat in to F.M. Light & Sons, where they cheerfully steamed it and shaped it for a very fair price, even though the original sale had been made by an esteemed former competitor from the other side of the street.
I just wish I knew the name of the original owner - I'll bet that old hat has stories to tell.
Come to think of it, the best things to be found at garage sales are the stories, real and imagined, embodied in every piece of fine junk. There is a story to be uncovered in every 45-year-old porcelain rooster, every antique toy and every slightly stained beaver-felt cowboy hat.
Nevermind that I spent 10 bucks to clean up a 50-cent cowboy hat.