Saitta wins seventh Steamboat Marathon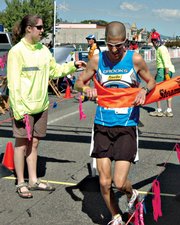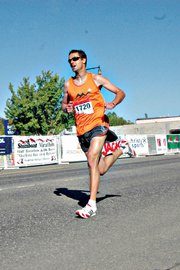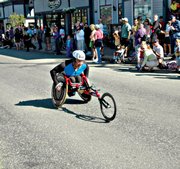 Steamboat Springs — Former Steamboat Springs resident Jill Roberts wasn't sure when she took the lead for good in the 26th Annual Steamboat Marathon.
In fact, when Roberts crossed the finish line, she wasn't even sure she won.
"I had no idea I was even in the lead," said Roberts, whose time of 3:29:51 was good enough for first place overall in the women's marathon. "At least not until my mom told me. I just wanted to get done so I wasn't even paying attention."
Roberts, who now lives in Denver, competed in the Steamboat Marathon last year and said the course and the conditions made this year's run tougher.
"It was tough," she said. "This year, for whatever reason, it was pretty tough. But it was good."
Durango's Bridget Mik finished second in the women's marathon with a time of 3:31:24. Stacia Wilkins from Castle Rock finished third in 3:35:07.
The Marathon brought more than 2,000 competitors out for three races. Along with the marathon, there was a half marathon and a 10K race.
The men's side of the marathon had a familiar theme to it by the name of Jason Saitta.
Saitta won for the Steamboat Marathon for seventh time in the past eight years Sunday with a time of 2:38:08.
Despite competing in a marathon in Oregon a month ago, Saitta took the lead from Justin Mock - who won the Colorado Colfax Marathon on May 20 - at the 13-mile mark and never looked back.
"I had to run smarter, because I didn't know if I had anything in my legs from running that marathon a month ago," Saitta said. "It's a deceiving course because it is a 1,400 foot drop" in elevation.
The difficulty of the course became a common thread for competitors this year. Saitta - whose ultimate goal is to qualify for the Olympic time trials in November - said a lot of entrants look at previous year's times and think they can "cherry pick."
In reality, with the altitude and the layout of the course, Saitta said the Steamboat Marathon proves to be a difficult but fun race.
"It was harder than I thought it would be," said Nicholas Gray, the top Steamboat finisher in the marathon with a time of 3:06:09. "It was fun. It was a good first. It's a lot more rolling than it looks."
Mock finished second in 2:45:27 and Craig resident and high school girls track coach Todd Trapp finished third in 2:46:27.
In the half marathon, Gunnison's Kevin Clary finished just seconds off the course record with a time of 1:10:56.
Clary started out with the lead pack for the first mile before breaking away for the win.
"This was definitely a better effort," said Clary, who finished just a minute off of his personal best that was run at sea level. "The race was great. Nothing was too steep uphill or downhill."
Littleton's Tim Hola finished second (1:17:27) and Brad Pace from Fort Collins finished third (1:19:56).
On the women's side, Craig's Christine Knight - who won the 10K last year - finished first in the women's half marathon with a time of 1:27:08. Bean Wrenn of Boulder finished second (1:28:47) and Jennifer Pressgrove from Craig finished third (1:31:45).
In the 10K, Matt Bell from Denver finished first with a time of 34:34. Peter Williams from Fort Collins finished second in 35:37 and Steamboat's Alexander Miller finished third with a time of 38:54.
In the women's 10K race, Lesia Atkinson from Boulder finished in first place with a time of 41:18. Kim McConnell from Erie (43:41) and Shannon Bridgeman from Loveland (43:56) finished second and third.
For complete results, visit www.boulderroadrunners.org.