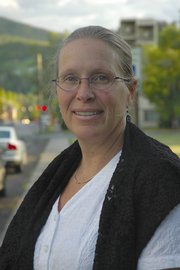 Steamboat Springs — Shortly after watching one child graduate from Steamboat Springs High School and on the verge of seeing another child complete eighth grade, parent Char Rusk is about to get even more involved in local schools.
The Steamboat Springs School Board on Monday night appointed Rusk to fill the board's District 4 seat, vacated in April by longtime School Board member Pat Gleason. The School Board appointed Rusk with a 3-0 vote. Board member Jeff Troeger was absent. Rusk, who came to Steamboat Springs almost 30 years ago, is a labor and delivery nurse at Yampa Valley Medical Center. During her brief interview, she told the School Board that after completing nursing school, she now has time to fulfill a long-held desire to take a more active role in local education.
"I've always been interested and passionate about the schools and the staff," Rusk said. "It's frustrating sometimes, being a community member and not hearing all sides of the story."
Rusk will fill the seat until November's election, and declined to say whether she plans to run at that time for a full term.
"That's hard to say," Rusk said, citing a desire to gauge the commitment involved with School Board service. "If I feel like I can do the job that needs to be done, I would run in November."
Rusk's appointment comes at a contentious time for the School Board, which is facing a recall petition for School Board member John DeVincentis. In April, Gleason brought controversial e-mails written by DeVincentis - letters that strongly criticize former superintendent Cyndy Simms - into public light and then resigned from the School Board.
DeVincentis asked Rusk about her "ability to maintain confidentiality, particularly of student and staff records," which he said is an "important issue for the school district right now."
"I've worked at the hospital for seven years," Rusk said, citing confidentiality regulations associated with health care. "I feel like I've already been in that (confidentiality) situation every day."
The School Board did not question Rusk about her hopes for the future of Steamboat schools or specific goals as a board member.
"I'm excited," Rusk said simply, standing outside the George P. Sauer Human Services Center shortly after the vote. "It will be great to become more involved."
The only other candidate for the seat was Darcy Trask, a former nutritional services director for the school district and currently an adjunct professor at Colorado Mountain College in Steamboat.
"We had two very good candidates volunteer," School Board member Jerry Kozatch said. "I feel very good about that."
Also Monday, the School Board named local attorney Paul Sachs its 2007 Friend of Education, an annual award given to an individual or group that has contributed significantly to the Steamboat Springs School District. Sachs leads the Educational Excellence Commission, which recommends funding allocations from the city's half-cent sales tax to the Education Fund Board.
"Paul has been a volunteer since the very beginning of the Education Fund Board," Kozatch said.
"As an individual, (Sachs has) done a lot of incredible things and put a lot of time and energy into our district," said School Board President Denise Connelly, who also praised all the local people who volunteer for the school district.
"Our school district would have a very different face without them," she said.
Sachs will be formally honored at a School Board meeting June 20.
That meeting will also include second readings of revised School Board policies, which board members briefly addressed Monday.
The board also gave formal approval to this year's compensation package for school district staff, which was negotiated by the district's collaborative bargaining team. Superintendent Donna Howell said the package received an "impressive majority" of support from school district staff. Of votes tallied by assistant to the superintendent Anne Muhme, 159 staff members supported the package, five opposed and two abstained.
Also Monday, the board honored five retiring staff members, discussed layout options for upcoming renovations to Strawberry Park Elementary School, and gave conceptual support to a request from local parents and special education staff that the school district install "universal playgrounds" at Strawberry Park Elementary School and the new Soda Creek Elementary School. Universal playgrounds would allow students with disabilities to play alongside their friends by eliminating difficult surfaces such as sand or gravel, and by installing equipment that meets or exceeds access requirements.
"This is something that I have felt is absolutely necessary for a long time," DeVincentis said.