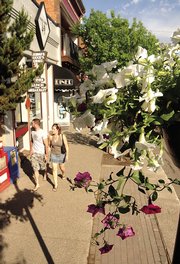 Steamboat Springs — Steamboat Springs homeowners will have to pay new fees to expand their homes under an affordable housing ordinance the City Council could enact tonight.
"I'm just concerned that people don't know about this," resident Bill Petersen said, referring to proposed changes to the ordinance that regulates affordable housing policies. "Remodeling has never really been an issue, but this (ordinance) is not only about commercial development - it's about you, too."
The council will conduct a final reading of the city's revised inclusionary zoning ordinance tonight. The vote would cap months of debate about how to enable workers to live affordably in Steamboat's rising real estate market.
The council has wrestled with housing issues for months, most recently in debates centered on "linkage" policies. Linkage would require residential and commercial developers to compensate the city, either by a fee or by building homes, for a percentage of the work force housing need created by their new developments.
When the City Council approved a first reading of the inclusionary ordinance and linkage policies May 22, Councilman Paul Strong cast the lone "no" vote. Strong said the fee rates assessed to commercial development were too high.
Strong said Monday that he doesn't think his vote will change, but he doesn't expect other council members to change their votes either.
Hitting home
Bill Petersen said commercial fees are drawing the public's attention away from proposed residential fees that could be assessed to homeowners.
According to data from the city's planning department, building a 500-square-foot addition would cost a local homeowner $144 in linkage fees to the city. The amount escalates for bigger projects - building a 2,500-square-foot residence would cost $2,158 in linkage, to compensate for housing required by an estimated 0.27 local jobs created.
"We need to do something, yes, but don't penalize the people who have worked hard to pay their taxes and buy a house," Petersen said.
The Steamboat Springs Planning Commission has previously voted to remove residential linkage from the ordinance entirely, and the City Council previously set a minimum size of 1,200 square feet.
But after legal advice warned of discriminatory practices, the City Council decided to include nearly all residential development in linkage, on a sliding scale.
"I'm not going to support that," Councilman Loui Antonucci said Monday of assessing fees for 500 square feet of construction. "I choose not to penalize local people that can afford to build their own house."
Tom Leeson, director of city planning, said arguments that linkage fees will raise costs and curb local growth are "anecdotal."
"I haven't seen any empirical data that this slows down development," Leeson said of linkage. "I haven't heard of any other tool proposed that would generate affordable housing. : I think that we as a community have a responsibility to address this issue."
City Council President Susan Dellinger seconded that in statements to the Steamboat Pilot & Today last month.
"I am very satisfied with the amount of work done on this ordinance," Dellinger said May 25. "Using other communities' information about their enacting inclusionary zoning and the building trends and housing costs that changed afterward, I am confident we will be positively affecting our community."
- To reach Mike Lawrence, call 871-4203
or e-mail mlawrence@steamboatpilot.com