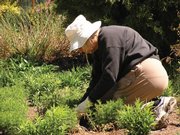 Steamboat Springs — Spring has opened its doors to summer, and Yampa Valley gardeners are ready. Bright blooms sit on doorsteps ready to plant, freshly tilled patches of soil wait for seeds and the earthy scent of mulch wafts through neighborhoods.
It wasn't always like this, says Audrey Enever, who moved to Steamboat Springs in 1971 when there were few places to buy summer flowers.
Now residents plan their shopping trips around flower shipments at stores and nurseries, picking the best plants from a multitude of colors and varieties.
"When I see what's happened in town, it's obvious gardening is a huge thing now," said Enever, 76, an avid gardener for about 16 years.
The proliferation of gardens and gardeners could be attributed in part to more empty-nesters and retirees such as Enever who now have the time to indulge their interest and love for gardening.
The satisfaction of watching things grow is immeasurable, but gardening has many other benefits that make it a healthy - and somewhat addictive - activity as we age. With modifications and adjustments, it's a pastime we can enjoy even while recovering from injuries or contending with arthritis and other conditions.
Getting outside
Nothing compares to having fresh veggies and herbs for the dinner table, but gardeners also help their bodies with the wide range of jobs and movements involved in gardening. Hauling wheelbarrows of mulch, lifting bags of soil, digging holes - even little movements such as reaching to pull weeds - strengthens muscles, increases flexibility and burns calories.
But exercise usually isn't gardeners' main motivation. Many gardeners simply enjoy spending quiet time outside and seeing the fruits of their labors. Enever, for example, can recall all the types of birds that visit her yard.
"When you're out there, you enjoy these things, but when you're indoors, you kind of don't," said Enever, who spends about an hour and half to two hours a day in her flower garden during peak gardening season.
Being around and working with plants is naturally soothing and relaxing, but gardening also engages the mind. It is a constant learning process: There always are more plants with different characteristics to learn about and challenges, such as protecting plants from frost and keeping critters - both tiny and large - away from prized plants and trees.
Gardening can be a good social outlet: It's fun to share activities with others - especially the tedious task of pulling weeds - and it can be a good way to learn about local gardening.
Emily Seaver was among volunteers who weeded and mulched plants during social gardening Wednesday at the Yampa River Botanical Park. A member of Over the Hill Gang, she recruits other members to help tend the club's garden within the park.
"I just find it so good to work with my hands and get out here," said Seaver, who estimates she spends about 100 hours volunteering at the park in addition to gardening at home.
Volunteering at community gardens and botanical parks is a good option for people who love to garden but don't have the space or lifestyle to maintain a garden at home.
Therapy and modifications
Although age and injury may limit the scope of gardening projects, it doesn't have to stop it altogether.
In fact, gardening has been found to help people recover from illness and injury by retraining muscles and improving coordination, balance and strength. It also can help relieve physical, cognitive and emotional limitations by reducing stress, exercising aging or arthritic joints and encouraging a sense of accomplishment, according to the American Horticultural Therapy Association.
These therapeutic qualities have encouraged gardening programs in hospitals, nursing homes, senior centers, schools, correctional facilities and psychiatric and mental health clinics throughout the U.S.
Modifying gardens and utilizing special tools can help accommodate gardeners' changing needs.
Raised beds and vertical gardens with trellised plants can help eliminate stiff and sore backs by allowing gardeners to plant, weed and do other tasks sitting or standing.
Container gardens can achieve the same goal, although gardeners need to be careful about lifting or moving the containers.
Almost anything will grow in the right container, Enever said, noting annuals tend to work best, since perennials need to be transplanted in the ground or protected in a greenhouse in the winter.
A leg injury has made kneeling down and getting up harder for Enever. She uses a kneeler stool, which has a thick foam pad to protect knee joints and hand grips that make it easier to get up. The stool also can be turned upside down to be used as a seat while tending raised or container gardens.
Special ergonomic pruners and hand tools make gardening easier for arthritic hands. Fiskars brand PowerGear garden tools are among those available. Gardeners also can adapt handles by wrapping them with electrical tape, bubble wrap or foam padding.
The Arthritis Foundation also recommends Bionic gardening gloves, which were designed by an orthopedic surgeon to reduce hand fatigue while maintaining grip strength. They start at $39.95 at www.bionicgloves.com.