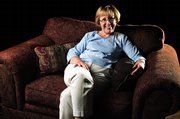 For more
The Steamboat Pilot & Today will be running a series of articles on cancer survivors leading up to the American Cancer Society's Relay for Life on Aug. 10 and 11 at the Steamboat Springs High School track.
It is difficult to find a person who has not had cancer touch their life or the life of a family member or friend. The American Cancer Society raised $375 million last year through its Relay for Life events, which are held throughout the world.
Steamboat began a Relay for Life last year.
For more information on Steamboat's event, visit, www.ascevents.org...
Steamboat Springs — Sara Lindsey can't pinpoint a moment when she thought of herself as a cancer survivor. She never really asked, "why me?" when the doctors told her the lump on her neck was non-Hodgkin's lymphoma and the lump on her breast was cancer.
There wasn't much time to think because Lindsey was too busy trying to live.
"I think what cancer teaches you is that life is very precious," Lindsey said.
According to the World Health Org-
anization, there are more than 24 million people living with cancer. By 2020, the WHO estimates 30 million people will have cancer, and more than 10 million could die annually. Currently, cancer kills nearly 7 million each year.
Lindsey, 65, is not one of them.
Cancer-free for more than a decade, Lindsey enjoys her grandchildren, Steamboat summers and Diet Coke with lime.
"For whatever reason, God does different things to different people," she said. "It never came back."
One-two punch
Lindsey initially was diagnosed with non-Hodgkin's lymphoma in 1988 after scheduling a doctor's appointment because she wasn't feeling well. The nurse thought Lindsey had strep throat, and that the knot on her neck was a lymph node acting up.
Turns out, Lindsey had more cancerous knots throughout her body - many more.
"I had no symptoms," she said.
Chemotherapy began immediately. The nausea, fatigue and loss of hair made it impossible to pretend everything was fine. The seven treatments lasted from May through September.
"It's probably the worst thing I've ever been through," Lindsey said.
The chemotherapy shrunk the knots enough that Lindsey was able to cease treatments, but the doctors told her the non-Hodgkin's lymphoma would never truly go away.
Fine, but Lindsey did not expect to be diagnosed with breast cancer five years later. A mammogram - Lindsey is a strong advocate for yearly exams for women - caught the cancer early, so the lump was removed and she went through radiation, but not chemotherapy.
Unbelievably, however, the doctors discovered no trace of the non-Hodgkin's lymphoma in her body. No explanation. No reason. A miracle.
Lindsey said her faith played a key role in her attitude and strength throughout the ordeal.
"The something you can do when you cannot do anything else is gather your support system and pray," she said.
Walking for life
Lindsey and her husband, Marvin Lindsey, are strong advocates for a healthy life. Neither smoke - Sara's parents both died of lung cancer - and they eat well and exercise. Sara Lindsey took exercising to another level last year when she walked 25 miles in one day as part of the inaugural Relay for Life held at the Steamboat Springs High School track.
Lindsey walked in the special survivor's walk, but she also walked through the night to raise money for the American Cancer Society's continued fight against cancer.
"It is a powerful thing to do - to walk with people with smiles on their faces who are healthy enough to do it," Lindsey said.
Last year, the Relay for Life in Steamboat raised more than $55,000 for the American Cancer Society. In 2006, 26 teams and six major business sponsors helped Steamboat stage a successful first event.
This year, 20 businesses and 45 teams already are registered. The Steamboat Relay for Life site is at www.ascevents.org/relay/co/steamboatsprings.
Marvin Lindsey and Luther Berntson are co-chairing the event this year, so they are busy preparing for the event Aug. 10 and 11. Volunteers are needed and can sign up by calling Lindsey at 871-4770 or Berntson are 870-9675.
Jayne Hill, another event organizer this year, attended last year's event and said it was inspiring.
"This year, because my husband is a survivor, we felt we should participate," Hill said. "It is a big community effort, so it's worth coming to see."
This year's event begins at 6 p.m. with opening ceremonies. A survivor's walk follows, and then the team walking begins. A luminary lighting ceremony is at 10 p.m. Last year, thousands of luminaries were lit to honor those who have died from cancer, to support those who have cancer and to pay tribute to those like Lindsey who fought cancer in the past.
"It really is astounding," Hill said. "Last year, we had almost 3,000 bags out and had the word 'hope' spelled out in the grandstand. It's really touching, and they read a list of tributes. It really was worth going to see."