Photo Gallery
Steamboat Springs Class of 2007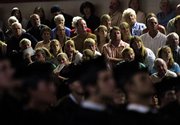 Steamboat Springs — While many of Steamboat Springs High School senior Max Pensack's fellow classmates chose to complement their caps and gowns with big curls, high heels or ties, he opted for an eye patch and a pirate's accent.
Pensack, who was one of 127 seniors who graduated Saturday and class valedictorian, delivered a 'Sailors'-inspired speech, which included references to his classmates as "salty dogs" and plenty of inspiring "arrrgs."
"We're preparing to leave our magical winter wonderland for the real world. Land ho," he said Saturday during the ceremony. "Once we come ashore, let's
hope we can approach it with a tasteful sense of humor."
Salutatorian Kristin Toy sent a similar message during her address and emphasized her class' uniqueness.
"I don't have to stress individuality as our key to success," she said. "We're not traditional, and we're not ordinary. Each of us is unique, talented and motivated with plans for the rest of our lives. I have high expectations for our class, and I expect us to do great things."
Saturday's graduation brought back a formative person from the seniors' past, someone who always made sure they were eating vegetables and doing push-ups in the halls.
Kevin Ford, former Steam-
boat Springs School District seventh-grade science teacher and track coach, left the graduates with simple advice: take out the trash and 'Just do it well.'
"I used to think the motto 'Just do it' was a good one," he said. "But now, not so much because you don't want to 'just' do anything. You want to do everything well."
Ford described the class from a series of surveys he sent to the seniors in March as "close, good leaders, diverse, unified, spunky and responsible."
Principal Mike Knezevich said Saturday was about honoring those characteristics and the class' accomplishments and achievements from the past 13 years.
"My hope is that you'll leave this school and take with you the skills, pride and knowledge you have developed here and go out into the world and make a difference for all of us."
It was a request Pensack felt comfortable honoring.
"We are ready to explode and radiate out into the world," he said. "In the words of Bruce Springsteen: So say goodbye, it's Independence Day."