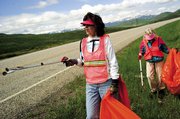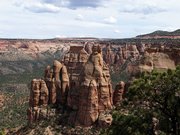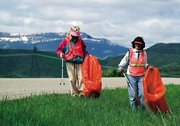 Stagecoach — Cigarette butt. Car part. Beer can. Soda can.
"I guess that's what I pick up the most," said Suzy Pattillo, a Stagecoach resident determined to keep her home and surrounding area clear of litter and debris. "I've probably picked up a hundred bags of just cigarette butts alone."
Pattillo and longtime friend and South Routt resident Jackie Saputo spent Friday morning as they spend many of their days: picking up trash along South Routt's highways and county roads.
"I'm just disgusted at the sight of trash in our area," Pattillo said. "It puzzles me to no end why someone thinks its OK to throw trash out their car window."
Since the late 1980s, Pattillo has donned a neon orange vest and volunteered countless hours picking up trash in her neighborhood and around her home.
Pattillo said she was not raised in an extremely Earth-friendly home, and that her passion for keeping things clean came from within.
"I love being out here," she said, combing an area of Routt County Road 14 near Stagecoach Reservoir. "It gives me a satisfaction of knowing that I'm helping keep America clean. Spending time picking up trash really can brighten your day."
Saputo, who helps Pattillo as often as she can, said Pattillo's good deeds go largely unrecognized.
"I feel a sense of loyalty and duty to (Pattillo) because she's definitely been the impetus and role model for all of us," Saputo said. "She's the one who keeps us all going."
Pattillo said she began picking up trash in the late 1980s when she was living in Glenwood Springs. She continued the work after moving to Oak Creek, then to Stagecoach in the early 1990s.
"I'd walk to work and get really disgusted at the trash and things I saw, so I'd pick it up," she said.
"Wherever we go, it always seems like we're picking up something," Saputo added.
Throughout the years, Pattillo has found wallets, clothing, videos and other usable items she often keeps or recycles.
"I just don't like to waste anything," she said. "My husband is always telling me not to bring anything else home."
Pattillo said she is always looking for others willing to donate time in keeping South Routt trash free. Call 736-8290 if you're interested in helping.
"People have to have respect for this world," she said.
- To reach Alexis DeLaCruz, call 871-4234
or e-mail adelacruz@steamboatpilot.com