Photo Gallery
Soda Creek Elementary School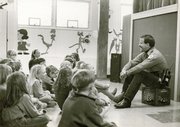 Steamboat Springs — The demolition of Soda Creek Elementary School is expected to begin later this month, but memories that date back to 1956 won't vanish with the disposal of thousands of bricks.
A new Soda Creek school will replace the aging facility built 51 years ago, and the day demolition begins will be one of mixed emotions in a community where generations of Steamboat Springs residents have passed through the Old Town school's front doors.
"It won't be long before the building I've known for 22 years will no longer be there," former Soda Creek Principal Steve Kaufman said last week. "It will be different and perhaps a little strange."
Kaufman still stops by the school because he lives only one block away. He joked that the school needed to be replaced when he arrived as assistant principal in 1978, so he doesn't want a brick from the old Soda Creek as a keepsake. He has all the memories he needs stored somewhere else.
"When we moved to Steamboat in August 1978, there was one elementary school," Kaufman said. "There were 714 students in that school. Can you believe that? There were a couple modular classrooms outside. We also had two classes in the gymnasium, so the P.E. teacher and a couple second-grade teachers got real acquainted with each other."
Additions made Soda Creek larger, but the school's layout and design restricted further growth. The foundation of the new school will be rotated a bit to try to maximize the space. Kaufman said he saw the plans for the new building, but he hasn't paid much attention to what it will look like.
"It was a great school in terms of the building," Kaufman said, referring to the current Soda Creek in past tense. "It was not great in terms of flexibility and adaptability from year to year for teachers. It's a traditional old school built in the '50s with individual classrooms with no moveable walls, so it's difficult for teachers to team together and work together. It doesn't stop you from doing things, but newer buildings have more flexibility."
The new Soda Creek will have high ceilings, open spaces and improved ventilation. There no longer will be poles in the middle of classrooms, and coats, snow pants, boots, gloves and hats no longer will take up half the space in narrow hallways during the winter.
But one thing won't change, current Principal Judy Harris has said - the warmth inside.
"It was a great school, and our teachers were just part of your family," said Alma Baldwin, a Soda Creek teacher for 24 years. "It was a nice atmosphere - always."
Baldwin came to Soda Creek in 1964 when the school was eight years old.
"The population continued to grow, so they continued to add on," Baldwin said last week from her home in Nebraska. "I moved around in the building because of adding on and more children. When I started, there were three second-grade teachers. When I finished, there were five. I think my largest classes were around 30 students."
The construction of Strawberry Park Elementary School in the 1980s alleviated some of the pressure at Soda Creek as the elementary children in Steamboat were dispersed between two schools, but Soda Creek remained - and remains - unique for its downtown location.
"The best part about being downtown was it was a lot like many of us grew up with a neighborhood school," said former teacher Jo Stanko. "I think what I always liked was the school was a welcoming place. Even though it was strung out and added on to in a series, it was always this welcoming place. It felt comfortable for most parents and most kids and definitely, I think, for the teachers."
Stanko, who still lives in Steamboat, started teaching in 1974. She taught second, third, fourth and fifth grades. She will remember how popular the sledding hill has been throughout the years and how the school had to start patrolling the area because so many kids wanted to sled on the weekends.
"It was one of the things that added to the character of going to school here," Stanko said.
Kaufman, also a Steamboat resident, will remember the teachers lounge, which is now Harris' office.
"It was a little on the small side," he said. "Other than that, the whole building was special and unique."