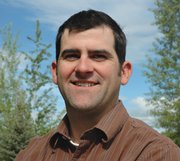 Steamboat Springs — Brad Cusenbary
Age: 36
Occupation: Pro Door, Rio 24 Hours of Steamboat, Kent Eriksen's Tour de Steamboat, Vanatta Outfitters, Garage Logic
Place of birth: Tejas (Texas)
Q. When did you move to Routt County and what brought you here?
A. Summer 1998 in the pursuit of happiness (I found her)
Q. What's the biggest risk you've taken recently?
A. Proposing on the top of a mountain in Whistler, B.C.
Q. Describe your morning routine.
A. Make breakfast for my fiancee, load Dugan & Sy, off to work
Q. Has a book ever changed your life? What was it and why?
A. "Desert Solitaire." It created a new appreciation for the desert
Q. What's the best piece of advice you've ever been given?
A. Be careful. That horse kicks : it did!
Q. What three things would you want people to know about you?
A. I have one fiancee, two dog's (Sy and Dugan) and 3 businesses.
Q. What did you want to be when you grew up?
A. I'm still trying to decide.
Q. If you could invite any four people to dinner, who would they be and what would you talk about?
A. Dale Earnhardt Jr., Robert Earl Keen, Ernest Hemingway and Willie - racing, music and hunting
Q. Do you collect anything?
A. Bikes
Q. In the Meatloaf song, "I would do anything for love, but I won't do that," what is that?
A. Move back to Texas
Q. What was your first job?
A. Mowing lawns (in the Texas heat)
Q. Do you have a tattoo? If so, what of and why did you chose it?
A. Yes, it's a star and crescent from my college fraternity (hey, it's what landed me in Steamboat).
Q. Do you have any phobias?
A. Closed-in, tight spaces
Q. If you could go back in time, to what event or time period would you go?
A. Steamboat in the late 1800s or early 1900s
Q. What is your favorite thing to do in Routt County?
A. Ride my bike and ski
Favorites
Book: Green Hills of Africa
Song: "I'd like to check you for ticks"
Color: Camo
Food: Mexican
Sport to watch: The good ol' boys - NASCAR
Vacation spot: France
Recreational activity: Cycling
Movie: "Full Metal Jacket"
Magazine: Bugle Magazine